Dutey to command the back line in his third year with the Jacks.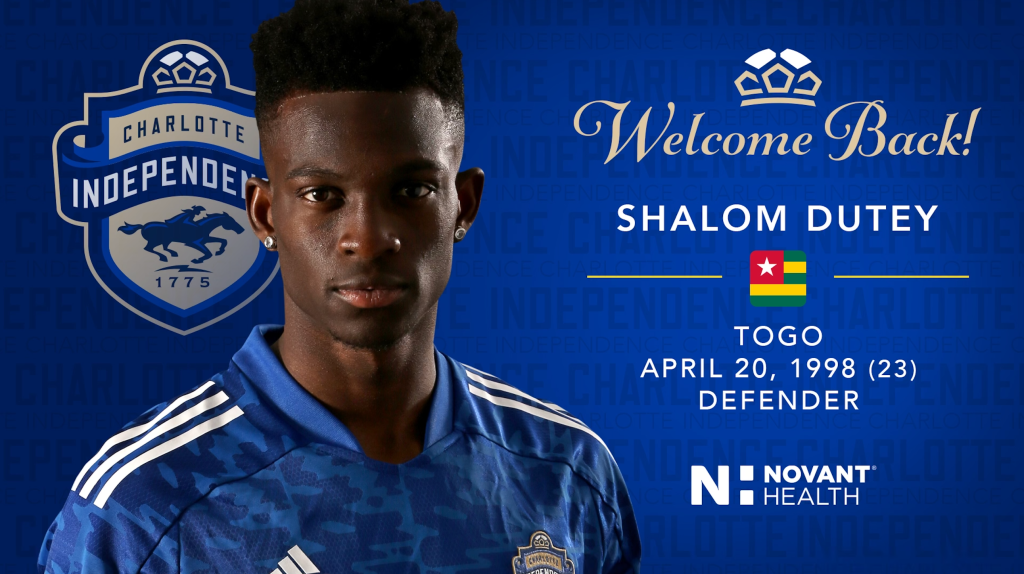 CHARLOTTE, N.C. (February 17, 2022) – The Charlotte Independence announced today that they have re-signed defender Shalom Dutey for the 2022 season. Dutey enters his third season with the Jacks. He made his professional soccer debut on May 1, 2021 during the team's season opener last year.
"Shalom is a physical, athletic presence at the back. He's very strong and wins challenges in the air and on the ground," explained Charlotte Independence Head Coach and General Manager, Mike Jeffries. "Over the last two years, Shalom has worked incredibly hard, and with a positive mentality he's sharpened his craft. I look forward to him showing those efforts on the field this year."
Dutey first signed with the Charlotte Independence in 2020. He played collegiate soccer at Liberty University from 2016-2019. Over the course of his four years, Dutey made 36 starts in 55 appearances for the Flames and scored two goals.
"I am excited to be back with the Independence this season," said Dutey. "I am ready to make new memories with the new team, and build off the playoff run we had last year."
While in college, Dutey also played in USL League Two with the Tri-Cities Otters and Charlotte Eagles where he earned All-Southern team honors. He recorded a combined 7 goals in 23 appearances.
"We're ecstatic that we have been able to keep Shalom in the Independence family! This is a player that's going to help us on the field and one who models our values in the community every day," stated Charlotte Independence President and COO, Tim Schuldt. "We look forward to his contributions on and off the field this year!"
The Charlotte Independence are scheduled to kickoff their 2022 season on Friday, April 8 at 7:00 PM (ET). The Jacks will host Central Valley Fuego FC at American Legion Memorial Stadium. To view the full schedule and purchase your season tickets, please visit charlotteindependence.com/uslleagueoneschedule.