Match Day F.A.Q.
Accessibility
Wheelchair and other ADA accessible seating is located on the concourse throughout the stadium areas. Please call the Ticket Office in advance to request ADA seating.  
Admission
All ticketing for Independence home matches will be processed digitally. Tickets are also sold in person on game day at the box office. Single-game tickets will be sold in advance of each match online at CharlotteIndependence.com. Children three and under do not require a ticket. Anyone aged three and older must have a ticket for admission to the match. Stadium gates will open to the public 60 minutes before kickoff.
Alcohol
Fans are expected to obey all state and local laws governing the purchase, possession, and consumption of alcohol while in American Legion Memorial Stadium. Anyone under the age of 21 or visibly intoxicated will not be served alcohol. Alcohol sales will stop after the 80th minute of the match. All persons ordering alcohol will be asked to show proof of age.
Amenities
Below you will see a map detailing the amenities at the all-new American Legion Memorial Stadium. You'll find plenty of concession stands, restrooms, fan services and other amenities provided for your comfort.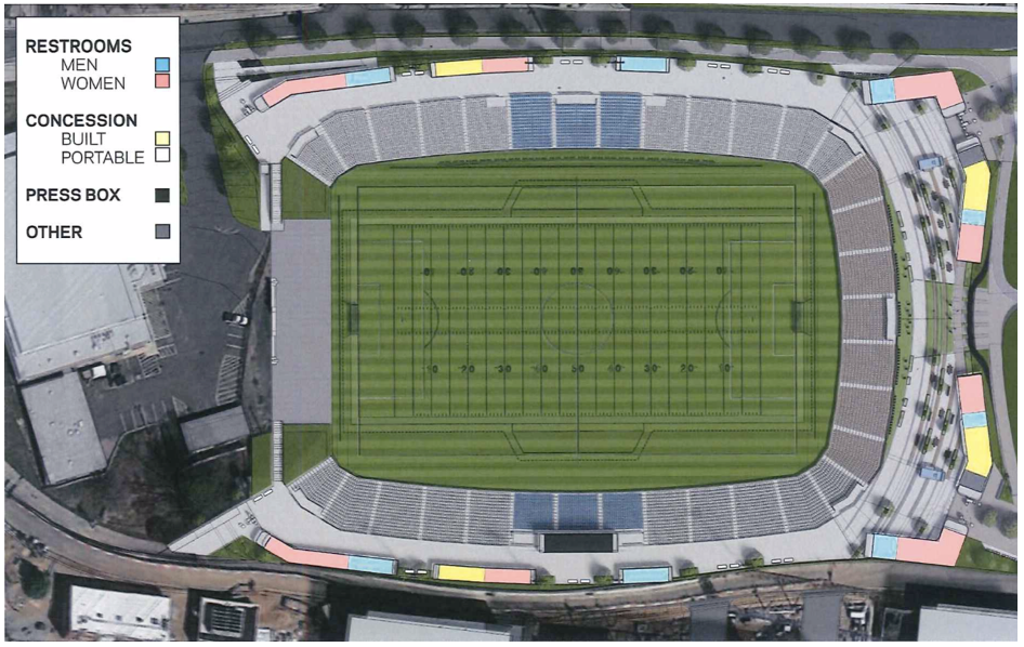 Bag Policy
Any personal items must be placed in a clear bag to ensure a contactless bag check. CLICK HERE TO READ THE FULL POLICY.
Banners and Signs
No signs or banners, without prior approval from the team front office, may be displayed in the stadium. Inappropriate, negative or derogatory language, messages, pictures or symbols will not be allowed to displayed.
Concessions
Beverages and food will be available for purchase throughout the stadium concourse. Please find a complete list of our options HERE.
Dogs
Service Dogs with the proper certification are allowed inside American Legion Memorial Stadium!
Please follow these guidelines:
Respect other fans.
Please keep your dog on a leash.
Please clean up after your dog.
Please keep your dog from physically or audibly disrupting other fans.
Epilepsy Warning
Fans at American Legion Memorial Stadium may experience flashing lights which may be unsuitable for those with photosensitive epilepsy.
Fan Code of Conduct
All fans must adhere to the Independence Fan Code of Conduct found HERE. Those violating the code of conduct are subject to removal with no refund and may not be allowed to come to any other Independence matches in the future.
Field Level VIP Seating
The Stella Artois Field Level VIP Seating will open at 6PM. Your food will be served at this time. You can proceed in either of the east gates and walk to the northeast corner of the stadium where you will find a staircase and an elevator. At this concourse landing area you will check-in and receive your field level pass. This will be required for entry and re-entry if you go back up to the concourse. Your food will be served on the field level in the northeast corner near the Video Scoreboard. Please refer to the map for further insight.
All FIELD LEVEL VIP customers must have proper I.D. at check-in and must provide proof of age to enjoy alcoholic beverages.
We ask that all FIELD LEVEL VIP guest refrain from any aggressive or insulting behavior towards players, game officials and other guests. Any of this type of behavior will result in removal from the match.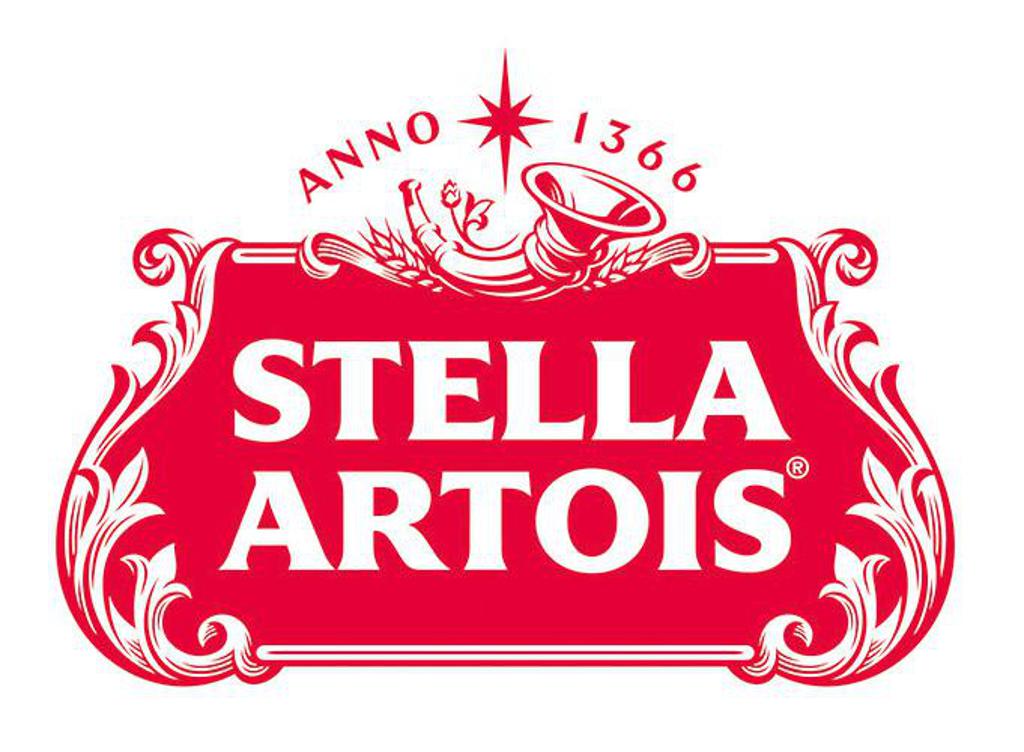 Lost and Found
Lost items may be returned to the merchandise trailer located on the main concourse by the front gate.
Merchandise
Independence merchandise is available for purchase by the front gates throughout the match. Check out https://www.shopcharlotteindependence.com/ to browse our options and new 2021 jerseys!
Outside Food and Drink
Outside food and beverages are not permitted in American Legion Memorial Stadium. Special considerations may be made for medical reasons.
Parking
Parking lots and ramps open at 5PM. Please park only in designated lots and ramps. Please do not park in local businesses lots or CPCC lots as you may be towed. Parking is $5 cash only. A tailgating lot is available with a limited number of spots. These spots are $10 per game cash only. If you choose to tailgate before the game, please abide by all the county regulations available on our website inside the Memorial Stadium section from the main navigation bar. Attached you will find the approved parking areas for Independence games.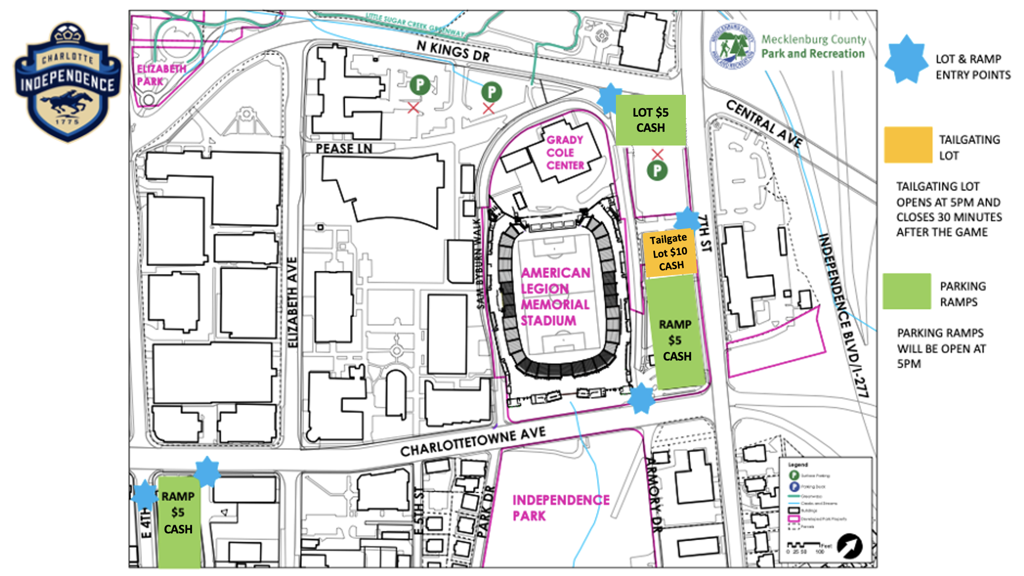 Re-Entry
Re-entry is allowed at American Legion Memorial Stadium, however you must be scanned out by the ticketing staff and scanned back in upon re-entry.
Refund Policy
There are no refunds or exchanges on parking, tickets, or concessions. Cancellation of a game will result in a credit being applied to the fans account to be used for future ticketing or parking purchases in the same calendar year.
Smoking
Smoking is not permitted inside American Legion Memorial Stadium outside of the designated smoking areas.
Tailgating
Tailgating is allowed only in the designated tailgating lot. $10 cash payment will provide you access to this lot. All Mecklenburg County guidelines must be followed. You can find more information and tailgating guidelines here: https://www.charlotteindependence.com/tailgating-policies.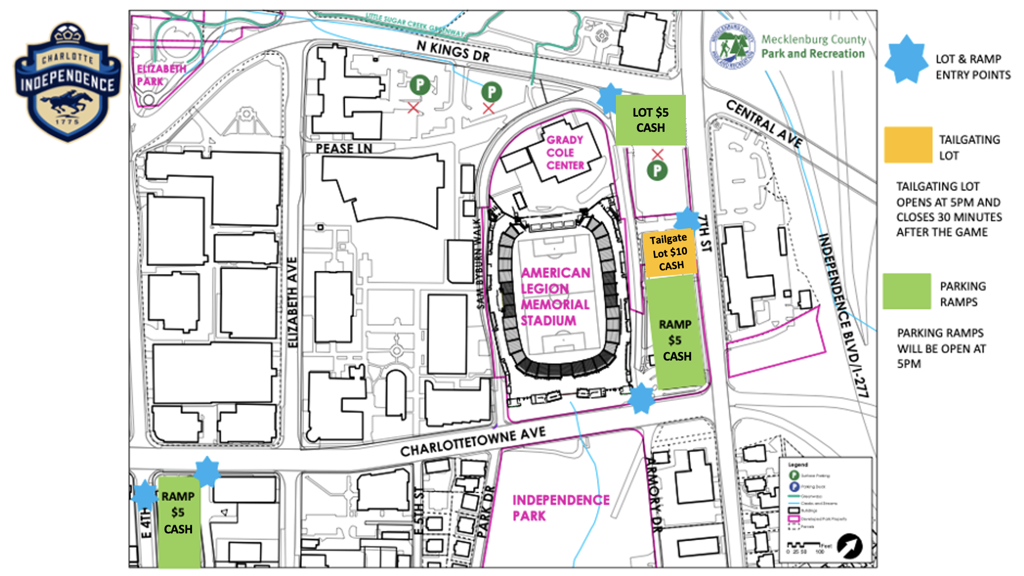 Guest Services
A Guest Services room is located on the northeast concourse where fans needing medical or health assistance can receive these services.
Jack's Brigade
The Jack's Brigade Tailgate Party will begin at 5:15 PM. You can park in the tailgate lot ($10 cash only) or the parking ramp ($5 cash only) and walk over. Please refer to the map below for our tailgate party location.
The tailgate on Wednesday, July 7 will feature beer from NoDa Brewing Company. The tailgate will end at 6:30 PM.
You will need to show you Jack's Brigade Members Card to join us, so please make sure you bring that with you. For more information on Jack's Brigade, click HERE.
Tickets
All ticketing will be processed digitally and must be purchased online in advance of every game at https://www.charlotteindependence.com/tickets to receive the best pricing. Game day, walk-up sales will be provided at the ticketing windows. Ticket booths will open at 5:30 PM. Gates open at 6:00 PM. We will accept U.S. cash, credit cards and debit cards.
Weather
American Legion Memorial Stadium is an outdoor venue and thus susceptible to bad weather. Games will be delayed in the event of lightning and will be canceled if conditions are deemed unplayable by the match officials. Cancelations are rare, but in the event the match is postponed BEFORE the 70th minute, your tickets may be exchanged for another 2021 regular-season home match, subject to availability.
Will Call
Will Call is located at the ticket building in the northeast corner of the stadium. Will Call will open 60 minutes before the start of the match.