Mbuyu looks for big break in his third year with the Jacks.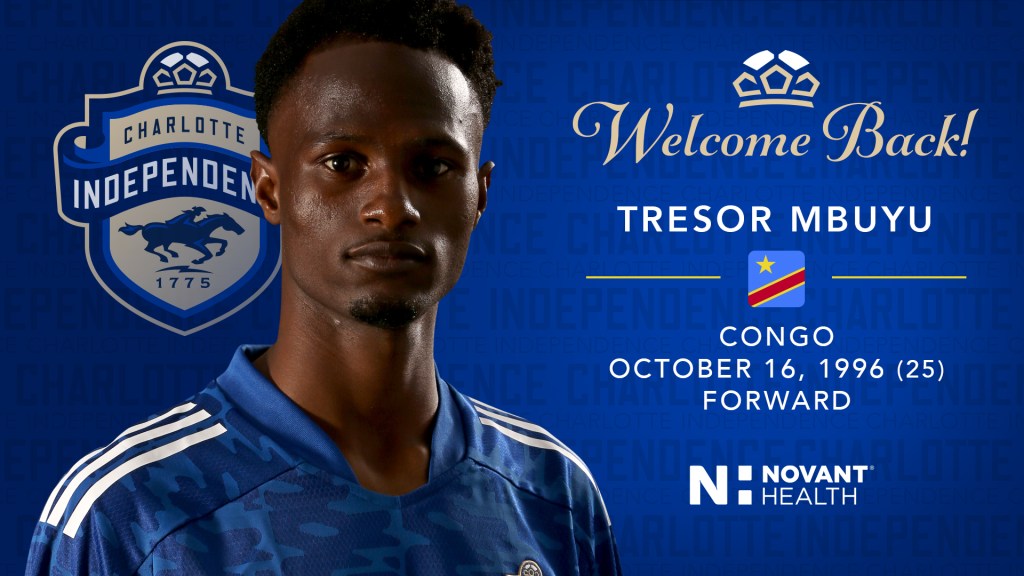 CHARLOTTE, N.C. (February 16, 2022) – The Charlotte Independence announced today that forward Tresor Mbuyu has re-signed for the 2022 season. Mbuyu enters his third season with the Jacks. In 2021, he recorded 112 minutes in 11 appearances and had one assist.
"I am expecting a breakout season from Tresor this year," explained Charlotte Independence Head Coach and General Manager, Mike Jeffries. "Tresor has developed his game the last two seasons and shown his ability to beat players 1 v. 1 and find opportunities in front of goal."
Mbuyu first signed with the Independence in 2020. Previously, he played one season for Orlando City B (2019), where he made 19 appearances and scored one goal.
"I'm excited for the opportunity to stay in Charlotte this season," stated Mbuyu. "I'm ready to get back on the pitch with the boys and bring home some wins for the Jacks."
Mbuyu played college soccer for Liberty University from 2016-2018. He notched 33 goals and 17 assists in 40 appearances. In the Summer of 2018, the forward joined USL League Two side North Carolina FC U23 where he scored four goals in nine appearances.
"Tresor has incredible acceleration and speed. Our fans are going to see an exciting brand of soccer with Tresor on the field," explained Charlotte Independence President and COO, Tim Schuldt. "We look forward to his success on the field and his tremendous work and dedication in the community that he's always delivered. The Jacks got better today!"
The Charlotte Independence are scheduled to kickoff their 2022 season on Friday, April 8 at 7:00 PM (ET). The Jacks will host Central Valley Fuego FC at American Legion Memorial Stadium. To view the full schedule and purchase your season tickets, please visit charlotteindependence.com/uslleagueoneschedule.