21 year old with significant experience in Venezuela's First Division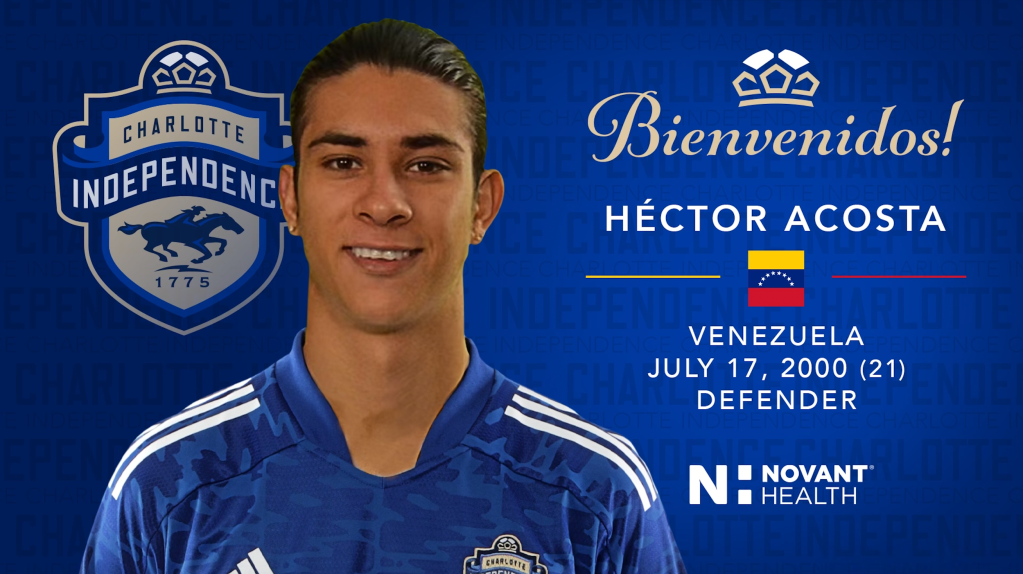 CHARLOTTE, N.C. (February 15, 2022) – The Charlotte Independence announced today that they have signed Héctor Acosta, a 21 year old defender from Venezuela. He is the newest player to join the Jacks ahead of their USL League One debut.
"Hector is an exciting signing for the Independence. At 21 years old, Hector has already played significant minutes in Venezuela's First Division," explained Charlotte Independence Head Coach and General Manager, Mike Jeffries. "As a young defender, Hector is comfortable and composed in possession; most importantly, his defensive qualities and instincts are strong. I look forward to seeing Hector continue his development in League One with the Independence."
For the last year, Acosta competed with Universidad Central de Venezuela in Liga Futve, the top-flight professional fútbol league of Venezuela. The public university, located in Caracas, is the highest ranking institution in the country. As a center back, he made nine appearances, scored one goal and played 711 minutes.
"I'm very happy to be part of the Charlotte Independence and it's an honor to wear the colors of this institution," explained Acosta. "I'm ready to set foot on the field, meet with my teammates and demonstrate my skills. I am eager to be able to contribute my potential and experience to the team's defense. It is a new challenge for me, and I want to continue to grow and help the team work to win. Go Charlotte Independence!"
The previous year he competed with Gran Valencia FC where he made 14 appearances, scored one goal and played 1,220 minutes.
Acosta's professional soccer career began in 2019 with Llaneros de Guanare EF where he made 21 appearances and accumulated 1,678 minutes played.
"Mike always does a great job building our roster," stated Charlotte Independence President and COO, Tim Schuldt. "He got us another gem with Hector! We look forward to watching this young man play exceptional defense and help us grow our brand in the community."
The Charlotte Independence are scheduled to kickoff their 2022 season on Friday, April 8 at 7:00 PM (ET). The Jacks will host Central Valley Fuego FC at American Legion Memorial Stadium. To view the full schedule and purchase your season tickets, please visit charlotteindependence.com/uslleagueoneschedule.