25 year old with top tier experience in Peru and Colombia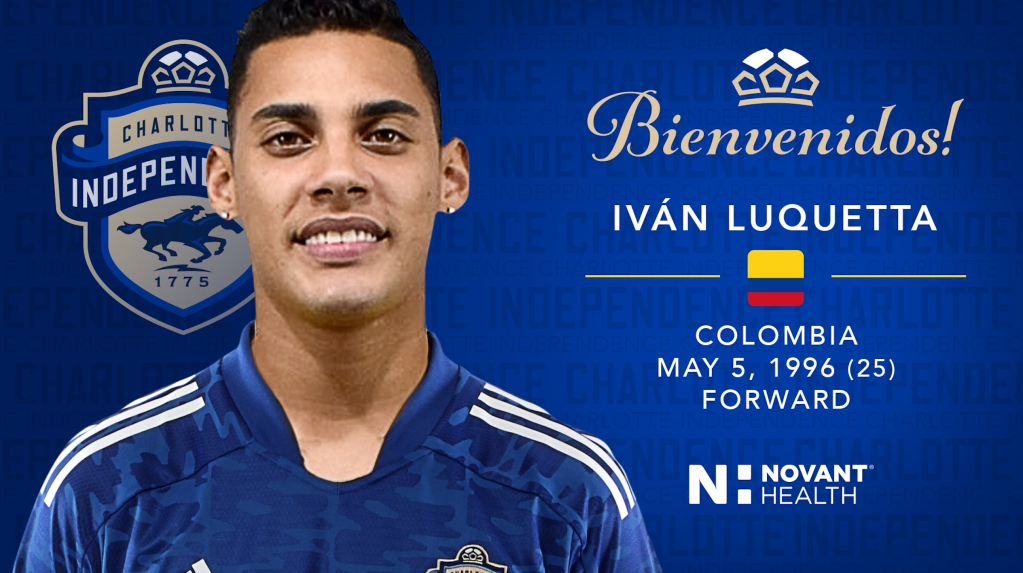 CHARLOTTE, N.C. (March 3, 2022) – The Charlotte Independence announced today that they have signed Colombian Forward Iván Luquetta for the 2022 season. Luquetta, born in Texas, returns to the United States after three years of high-level professional soccer competition in Peru and Colombia. Luquetta is the sixth signing for the Charlotte Independence and joins Clay Dimick, Héctor Acosta, Tresor Mbuyu, Shalom Dutey and Ayrton Páez ahead of the club's USL League One debut.
"With his experience in First Division Peru and Colombia, Iván adds a new dimension to our attack," explained Charlotte Independence Head Coach and General Manager, Mike Jeffries. "He has a strong ability to connect and combine with teammates, with excellent qualities around the goal. We are fortunate to bring him back to the States and look forward to his contributions in front of goal this season."
Luquetta played his 2021 season with Academia Deportiva Cantolao, a Peruvian fútbol club, where he appeared in 13 games for 643 minutes and scored one goal.
The previous year Luquetta made four appearances for Boyacá Patriotas FC, also known as Patriotas, a professional Colombian fútbol team located in Tunja.
"I am very excited to join the Charlotte Independence, and I am thankful to the organization for giving me this opportunity," stated Luquetta. "I'm excited to help the team win and to score goals."
In 2019, he competed for both Barranquilla FC and Junior FC, the main Caribbean team in the top flight of Colombian fútbol. Luquetta began his professional soccer career in 2017 with LD Alajuelense (La Liga) who competes in the top tier of the Costa Rican fútbol league.
"Mike has found another gem in Iván! His international experience in South America has prepared him for this next step, and we're thrilled to have him in Charlotte this season," explained Charlotte Independence President and COO, Tim Schuldt. "Our attack, with Iván and Tresor, is shaping up to be very dynamic. We're excited to see Iván and his teammates at our home opener presented by Chick-fil-A on Friday, April 8th."
The Charlotte Independence are scheduled to kickoff their 2022 season on Friday, April 8 at 7:00 PM (ET). The Jacks will host Central Valley Fuego FC at American Legion Memorial Stadium. To view the full schedule and purchase your season tickets, please visit charlotteindependence.com/uslleagueoneschedule.