Barone spent three years playing professional soccer in Italy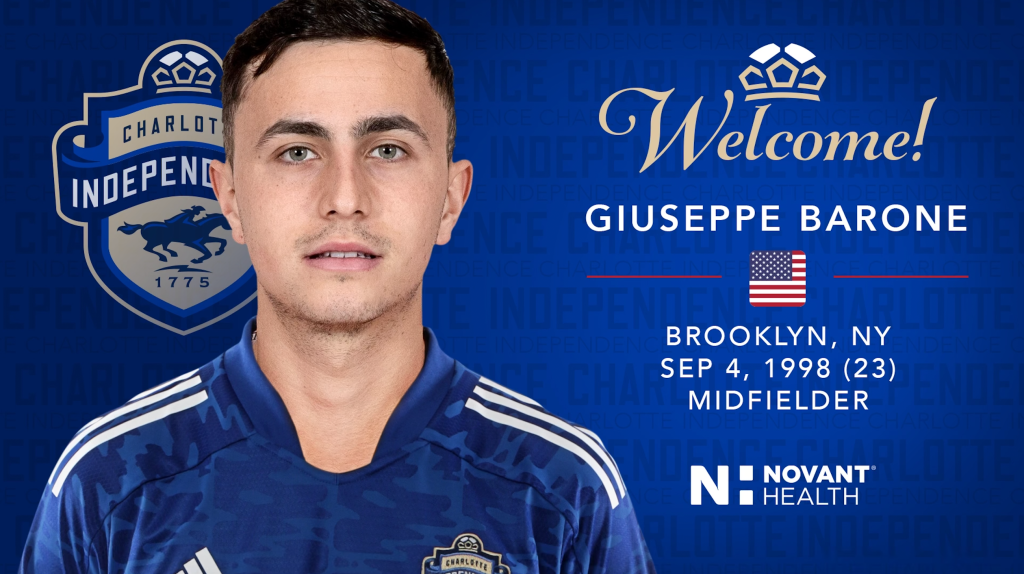 CHARLOTTE, N.C. (March 16, 2022) – The Charlotte Independence announced today an addition to their attack with the signing of Midfielder Giuseppe Barone. Barone played professional soccer in Italy for three years. He is the seventh signing for the Jacks with less than one month until their first match.
"Giuseppe is a clever flank midfielder who's capable of beating players 1 v. 1 and is excellent in combination with his teammates," explained Charlotte Independence Head Coach, Mike Jeffries. "With his high soccer IQ and clever ideas in the final third, we look forward to Giuseppe contributing to our attack this season."
Barone moved to Italy in 2019 after signing with AC Perugia Calcio. He spent the 2020-21 season with US Salernitana 1919 who competed in the Italy Cup, an annual knockout competition in Italian fútbol. Last season, he joined Ascoli Calcio. Each of these teams competes in Serie B, the second-highest division in the Italian fútbol league system.
"I'm really excited to join the team and start with them in the new league," stated Barone. "I look forward to playing in front of our fans at home. We will give it everything we have every game, and I can't wait to make great memories together this season!"
Before his move overseas, Barone competed with the New York Cosmos in two tournaments. First was the U.S. Open Cup where he recorded a full 90 minutes. Second, was the NPSL Members Cup where he made two appearances and helped lead the team to a Runner Up Finish.

The Charlotte Independence are scheduled to kickoff their 2022 season on Friday, April 8 at 7:00 PM (ET). The Jacks will host Central Valley Fuego FC at American Legion Memorial Stadium. To view the full schedule and purchase your season tickets, please visit charlotteindependence.com/uslleagueoneschedule/.