Both players competed for the Charlotte Independence Soccer Club's U19 Pro Academy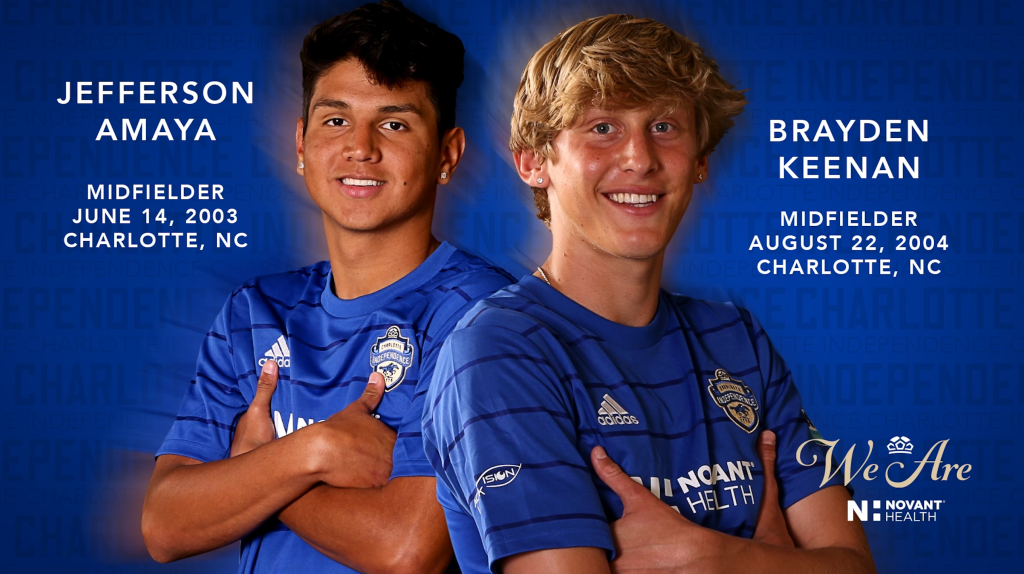 CHARLOTTE, N.C. (March 29, 2022) – The Charlotte Independence announced today that they have signed Midfielders, Jefferson Amaya and Brayden Keenan to a pair of Academy Contracts for the 2022 season, pending league and federation approval. Both players competed for the Charlotte Independence Soccer Club's U19 Pro Academy during the 2021-22 season. Amaya and Keenan are the first two Academy contracts since the Jacks signed Blake Pope ahead of the 2021 season showcasing a true pathway to the pros for aspiring soccer players in Charlotte.
"We are excited to add top Academy players to our roster and to start the process of promoting Academy players to the first team," stated Charlotte Independence Head Coach, Mike Jeffries. "Jefferson is a very technical central midfielder who showed the ability to play at speed during our preseason. Brayden is a dynamic, unpredictable wide player with clever ideas in front of goal. We look forward to both players competing for playing time and contributing during the season."
Amaya was born in El Salvador and moved to the United States when he was young. He came to Charlotte from Elizabethtown, Pennsylvania at 15 years old and joined the Charlotte Independence Soccer Club's U19 Pro Academy. Amaya captained his team to the 2021 ECNL National Championship. Following the 2020-21 season, he earned Boys ECNL Mid-Atlantic All Conference 2nd Team.
"We are extremely excited to have two more players sign Academy contracts with our Pro team," said Jeff Bilyk, Academy Director for the Charlotte Independence Soccer Club. "Brayden and Jeff have worked extremely hard to earn this opportunity, and it is a well deserved achievement for both of them. This continues to be an exciting time for our club and Academy players, as there is a real youth to pro pathway, where playing at the next level can become a reality for them."
Amaya has committed to play collegiate soccer at High Point University and will join the Panthers this fall to continue his athletic and academic career.
"I am super excited to sign with the Charlotte Independence," stated Amaya. "I am looking forward to learning from the senior players on the team and taking my game to the next level. I can't wait to play in front of all the fans and to win many games with this club!"
Keenan, a junior in high school, competed with the Charlotte FC Academy during the 2020-21 season before joining the Charlotte Independence U19 Pro Academy. He was the first Charlotte FC Academy player to score a game winning goal at Bank of America Stadium in a 3-2 win over Atlanta United.
"Congratulations to both Jefferson and Brayden. We are excited to see how they both adapt to this next step in their development," explained Dave Carton, Technical Director of the Charlotte Independence Soccer Club. "We are proud as a club to be able to offer this pathway for our players, and we are confident that both Jefferson and Brayden will be the first of many to take this step soon."
Keenan saw minutes with Charleston Battery in the 2022 Carolina Challenge Cup which featured three MLS teams: Inter Miami FC, Columbus Crew and Charlotte FC. At the age of 13 he played in the MIC Cup in Spain, an international youth soccer tournament that brings together some of the best academies in the world. Keenan is committed to play collegiate soccer at the University of North Carolina Greensboro.
"I'm really looking forward to the season ahead and this next chapter in my life," stated Keenan. "I've been watching the Independence first team play for years now and I can't wait to get out on the field."

The Charlotte Independence kickoff their 2022 season on Friday, April 8 at 7:00 PM (ET). The Jacks will host Central Valley Fuego FC at American Legion Memorial Stadium. To view the full schedule and purchase your tickets, please visit charlotteindependence.com/uslleagueoneschedule.