California native with USL Championship, MLS and National Team experience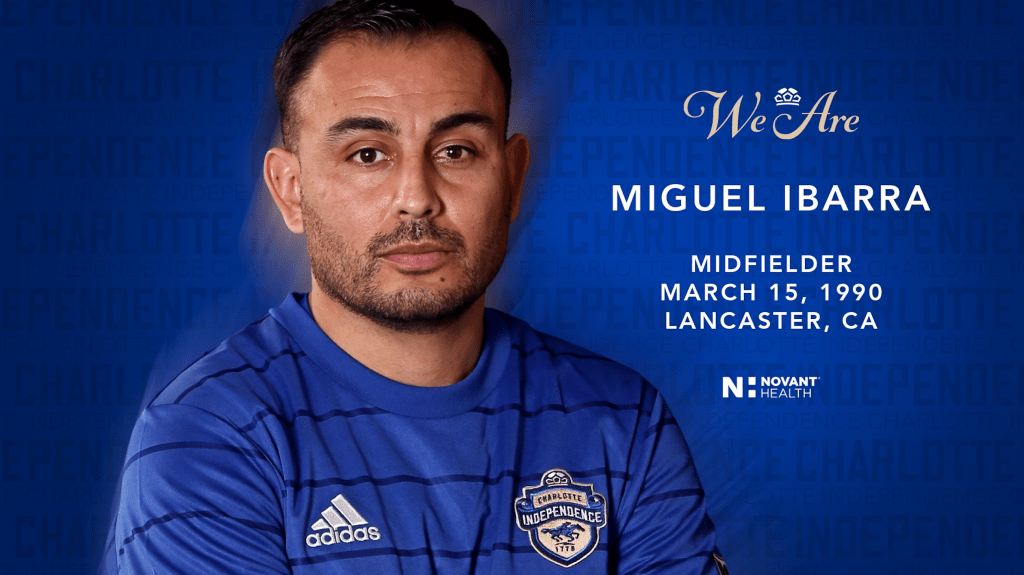 CHARLOTTE, N.C. (March 30, 2022) – The Charlotte Independence today announced the signing of former MLS and USL Championship talent, Miguel Ibarra. The dynamic midfielder was called up twice to the U.S. Men's National Team in 2014. First was an international friendly against Ecuador. Ibarra became the first American second division player to be called up to the national team since 2005. He earned his first cap against Honduras and his first start against Panama.
"Landing Miguel is a huge coup for the Independence," explained Charlotte Independence Head Coach, Mike Jeffries. "We expect Miguel to make an impact in the final third. He brings tremendous technical ability with a strong awareness in front of goal. In addition to the on field experience and talent he provides, he will be a great mentor for the younger players in our group."
Less than one year ago, Ibarra signed with USL Championship club San Diego Loyal SC. He recorded two goals in 28 appearances during the 2021 season. He spent the previous year with Seattle Sounders FC and made 12 MLS appearances.
In 2017, Ibarra returned to Minnesota United for their inaugural MLS season. Over the course of three seasons he appeared in 84 games and scored 11 goals. He originally joined the club in 2012 as part of the North American Soccer League (NASL). By the end of 2015 Ibarra was named to the NASL Best XI (2013, 2014), NASL Player of the Month (2014) and was awarded the Golden Ball (2014) as the league's best player at the conclusion of the season.
Ibarra, the second round pick of the 2012 MLS Supplemental Draft, spent a short stint with Club León in Mexico from 2015-2017 and scored one goal in eight appearances. 
"I'm excited to come in and be part of a big club," stated Ibarra. "I'm excited about playing in front of the fans and getting to know all the players, coaching staff, front office and everyone who is part of the organization. I look forward to winning games. Every game I will give 1,000% and will push my teammates to do the same. With my experience, I hope to be an example for the young guys and help them out as much as I can. I can't wait to meet the fans on opening night and get to know them because they are a big part of the club and they help us win games with their energy. Last but not least, I want to raise a trophy for Charlotte, they deserve it."
The California native began his collegiate soccer career at Taft College. From 2008-2009 Ibarra was named Central Valley Conference MVP. He transferred to UC Irvine from 2010-2011 where he earned Big West Co-Offensive Player of the Year and All-Big West First Team honors. While in college, Ibarra played with USL Premier Development League clubs Lancaster Rattlers and Orange County Blue Star.

The Charlotte Independence kickoff their 2022 season on Friday, April 8 at 7:00 PM (ET). The Jacks will host Central Valley Fuego FC at American Legion Memorial Stadium. To view the full schedule and purchase your tickets, please visit charlotteindependence.com/uslleagueoneschedule.