Two international players bring experience from USL Championship and top flight Colombia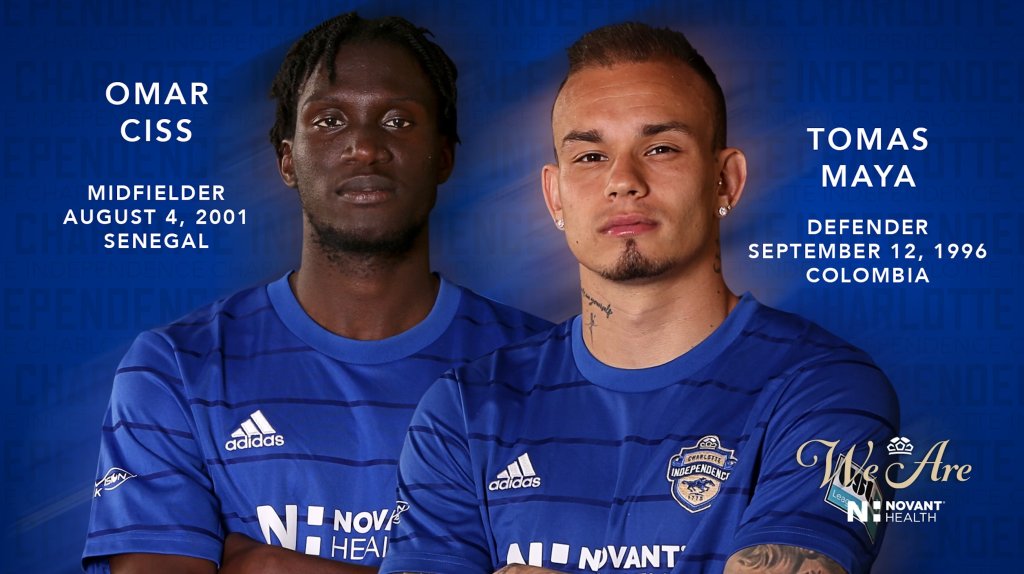 CHARLOTTE, N.C. (April 5, 2022) – The Charlotte Independence announced today the addition of two international talents, Omar Ciss of Senegal and Tomas Maya from Colombia. Ciss, a midfielder, joins the Jacks from USL Championship club, Austin Bold FC. Maya, a defender, played last season with Asociación Deportivo Pasto, a professional fútbol team in Colombia.
"We are delighted to add another talented young player to our roster in Omar Ciss. Omar is the prototypical two way midfielder – a strong ball winner defensively with the ability to playmake from the back and make plays in the final third," explained Charlotte Independence Head Coach, Mike Jeffries. "Though he is only 20, Omar brings significant USL Championship experience to our group and the potential to be a big impact for us."
Ciss came to the U.S. in 2017 from Dakar, Senegal when he joined the Soccer Institute at Montverde Academy in Orlando, Florida. Austin Bold FC (USL C) brought Ciss in as a trialist in 2020. He went on to compete in both the 2020 and 2021 seasons totalling 38 appearances and one assist for 1,677 minutes.
When asked about his thoughts on joining the team, Ciss stated, "I'm so excited to join this historic club and represent this city. I can't wait to start the season. We have a big year ahead."
Maya comes to Charlotte with six years of high level experience in the Colombian professional soccer scene.
"Tomas is an attacking left back who fits our style of play – he will get up and down the sideline making plays in the final third and playing out of pressure," stated Jeffries. "With experience in First Division Colombia, Tomas adds significant quality to our roster."
Maya has played at a variety of levels with six different clubs including Asociación Deportivo Pasto, Envigado FC, Cúcuta Deportivo, Independiente Santa Fe, CD Atlético Huila, Atlético Nacional. At the back, he's recorded 4,592 minutes played, scored one goal and notched two assists.
"I'm very happy to join this great team, this great country and the city of Charlotte in my first soccer experience abroad," stated Maya. "I feel good about the season, and I know that with this group we will make history. I hope to bring my experience and my style of play and really contribute to the team."

The Charlotte Independence kickoff their 2022 season on Friday, April 8 at 7:00 PM (ET). The Jacks will host Central Valley Fuego FC at American Legion Memorial Stadium. To view the full schedule and purchase your tickets, please visit charlotteindependence.com/uslleagueoneschedule.