23-year-old led Clemson University to a 2021 NCAA National Championship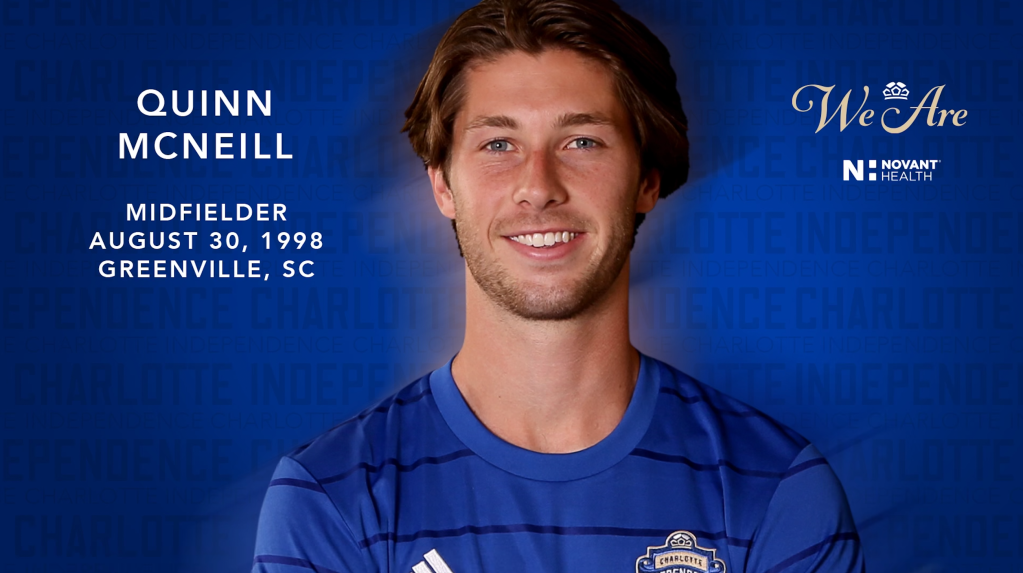 CHARLOTTE, N.C. (April 5, 2022) – The Charlotte Independence announced today that Quinn McNeill will be the first player from Charlotte FC to join the Jacks on loan. The news comes after the club's announcement of an affiliation agreement for the 2022 season.
"We are excited to welcome Quinn McNeill as the first Charlotte FC loan player," explained Charlotte Independence Head Coach, Mike Jeffries. "Quinn brings passion, commitment, and energy every day. Most importantly, he is a true two way midfielder – equally comfortable doing the dirty work of recovering the ball to help his team win and able to make the right pass in possession or pull off a play in the final third. Though he is in his first professional year, Quinn's competitive nature and winning mentality will raise the standard of the group."
McNeill's contract with Charlotte FC runs through 2022 with options for the 2023, 2024 and 2025 seasons.
The Greenville, S.C. native graduated from Clemson University in 2021 after leading the Tigers to a NCAA National Championship over No. 2 Washington. That same year, he was named ACC Offensive Player of the Week and Third-team All-ACC. Throughout his collegiate career, McNeill recorded 77 games played, 9 goals and 5 assists for 4,539 minutes.
"I'm super excited to be with Independence and stay in Charlotte," stated McNeill. "I can't wait to play in front of the fans at American Legion Memorial Stadium and build something special with this team!"
Before college, McNeill was a five-time South Carolina State Champion with CESA 98 (2011, 2012, 2013, 2014, 2016), a 2015 Disney Showcase Best XI and the goal and assist leader for the 2015 Region III Champions with CESA.

The Charlotte Independence kickoff their 2022 season on Friday, April 8 at 7:00 PM (ET). The Jacks will host Central Valley Fuego FC at American Legion Memorial Stadium. To view the full schedule and purchase your tickets, please visit charlotteindependence.com/uslleagueoneschedule.