Two young players to bring physical presence and technical strength to back line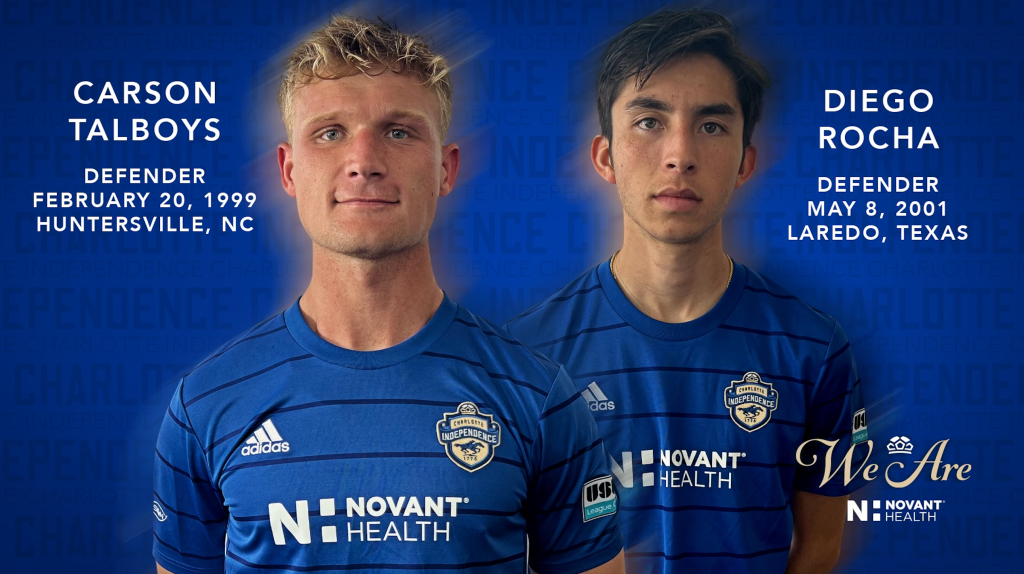 CHARLOTTE, N.C. (April 7, 2022) – The Charlotte Independence announced today the signing of defenders Carson Talboys and Diego Rocha to the club's roster ahead of the Jacks' 2022 USL League One debut, pending league and federation approval. Talboys, a Huntersville native, joins the club after playing college soccer at Wilmington University. Rocha is coming to the Jacks with USL Championship experience at Rio Grande Valley FC.

Before transferring to Wilmington University, Talboys played four seasons at Catawba College. He was named captain at Catawba for the 2020-21 season. Talboys played every minute at the center back position, appearing in 50 games at Catawba, making 41 starts.

"Carson brings a physical presence defensively, the ability to lead and organize the back group, and a comfort level playing out of the back and finding the right pass in the build up," explained Charlotte Independence Head Coach, Mike Jeffries. "In Carson, we are delighted to be able to add a local player and former player with our youth club to our roster."

During his one season at Wilmington, Talboys was named the Central Atlantic Collegiate Conference Defensive Player of the Year and was named First-Team All-CACC, scoring six goals and earning two assists. He played high school soccer at Lake Norman Charter High School and played for the Colorado Rapids USDDA during his junior and senior season.

"I'm very excited to be able to play with the Independence this season and sign my first professional contract!" Talboys said. "To be able to sign and play in the city I grew up in is a dream come true and I hope to continue on and make history this season as we start our campaign in League One. I'm eager to continue my development as a player, and I'll do my best to find success for the club and myself!"

Rocha signed with Rio Grande Valley FC at the age of 19 for his first ever professional contract. He became the first player to graduate from the RGV Academy and sign a professional contract.

"Diego is a young, developing defender who fits the profile of our club well," said Jeffries. "His technical game and ability to play out of the back are very solid and he can be a physical presence defensively. With a strong, athletic profile, we expect Diego to be a strong contributor for us this season – his ability on the ball allows him to be comfortable in both a back three and a back four."

In the 2020 USL Championship season, Rocha made three appearances as a USL Academy Signing. He started all 16 games for RGV FC's Academy team in the 2019-2020 season where he scored one goal out of the back.

"I'm very thankful and excited to be here," Rocha said. "It's a great group of hard working guys who want to win so I'm really looking forward to being on the pitch with them and playing in front of our fans."

The Charlotte Independence kick off their 2022 season on Friday, April 8 at 7:00 PM (ET). The Jacks will host Central Valley Fuego FC at American Legion Memorial Stadium. To view the full schedule and purchase your tickets, please visit charlotteindependence.com/uslleagueoneschedule.