ECNL National Championship players from the Charlotte Independence Soccer Club make their way to the pros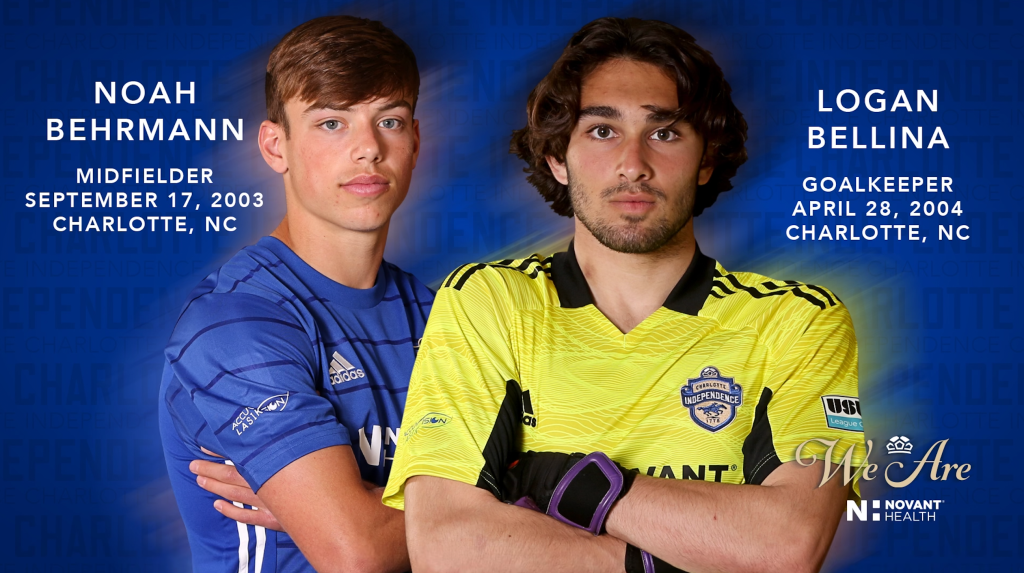 CHARLOTTE, N.C. (April 7, 2022) – The Charlotte Independence announced today the club has signed two more players from the Charlotte Independence Soccer Club, midfielder Noah Behrmann and goalkeeper Logan Bellina, to Academy Contracts for the 2022 season. The Independence make their USL League One debut at American Legion Memorial Stadium against Central Valley Fuego FC on Friday, April 8 at 7:00 PM.

"As an academy addition, we expect Noah to compete for playing time this season," explained Charlotte Independence Head Coach, Mike Jeffries. "His energy and ability to take players on adds positively to our group. Noah's preseason performances dictated that we transition him from our academy to an addition to our roster."

Behrmann, a Clemson commit, won the 2021 U19 ECNL National Championship with the Charlotte Independence Soccer Club.

"I am so blessed to have this opportunity to sign with the Independence," Behrmann said. "I can't wait to play in front of the fans with my brothers and show what we can do. All the glory goes to God!"
In high school, he was a two-time All-State selection and selected to play in the 2021 All-American game. Behrmann was named the 2020 North Carolina Private School Player of the Year and was a 2020 All-American, leading his team to the State Championship that same year.

"These additional Academy signings to the first team further demonstrate our commitment to player development at the Charlotte Independence. We are thrilled that we can provide these players with the pathway to advance their development, playing and competing in a professional environment daily," stated Charlotte Independence Technical Director, Dave Carton. "It is not only a testament to the work our Academy staff are doing, but also the dedication and commitment our players are showing each season. Congratulations to each of the players on their signings, we are confident that they will make us proud."

Bellina was also a part of the historic Charlotte Independence Soccer Club team that won the U19 ECNL National Championship alongside Behrmann.

"Logan is another academy player who excelled during our preseason," said Jeffries. "Though it is always difficult for a young goalkeeper, Logan has handled the speed of the game well and is able to make difficult saves. Most importantly, he maintains a great banter with the strikers during finishing exercises."

Across his time playing with the Pro Academy, he acquired 13 clean sheets and averaged .68 goals against.

"I am very grateful to have the opportunity to play at this high of a level," Bellina said. "Being around players everyday that push you to play your best has been helping me improve so much, and I'm looking forward to continuing to grow as a goalkeeper."

The Charlotte Independence kickoff their 2022 season on Friday, April 8 at 7:00 PM (ET). The Jacks will host Central Valley Fuego FC at American Legion Memorial Stadium. To view the full schedule and purchase your tickets, please visit charlotteindependence.com/uslleagueoneschedule.