22-year-old has represented Ukraine 11 times on the youth international level and accumulated 27 Ukrainian Premier League appearances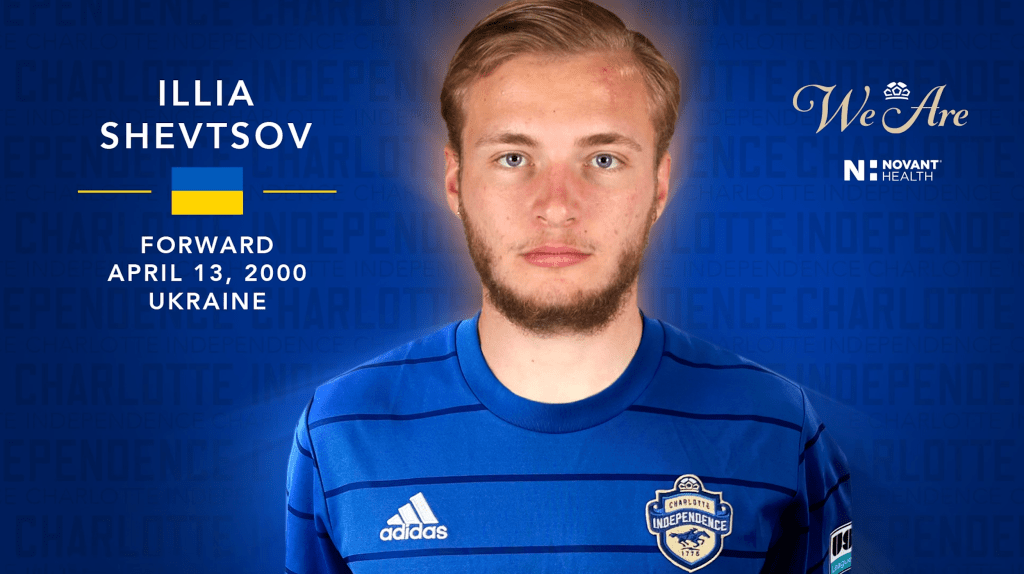 CHARLOTTE, N.C. (May 26, 2022) – The Charlotte Independence announced today the signing of 22-year-old Ukrainian striker Illia Shevtsov, pending league and federation approval. He joins the Independence after two years with Ukrainian side Desna Chernihiv which compete in the top-flight Ukrainian Premier League (UPL).
"We are excited to add Illia to our roster as another young player with a very strong professional background," explained Charlotte Independence Head Coach Mike Jeffries. "With his developmental background and experience in the UPL, we anticipate him being a strong impact for our roster. His quality on the ball, ability to run at players and comfort anywhere across the front line will add to our attacking flexibility. We are understanding and cognizant of his situation in Ukraine and excited he wishes to continue his career with us at this time."
Shevtsov began his professional career at 15 with FC Krystal Kherson in the third-tier Ukrainian Second League after playing in the club's youth academy. With the first team, he scored four goals across two seasons in his 38 appearances. He was transferred to Shakhtar Donetsk's U-19 side before he returned to Krystal Kherson where he had his most successful season from 2018-2019, scoring five goals across 12 league appearances.
Following his successful season with Krystal Kherson, he was signed by FC Desna Chernihiv's second team in 2019 and was later promoted to the first team in 2020, making an appearance in the UEFA Europa League third qualifying round against German side VfL Wolfsburg. He scored his first goal in the Ukrainian Premier League on Oct. 24, 2020 against FC Olimpik Donetsk in a 2-0 win.
At the international level, Shevtsov has made 11 appearances for the Ukrainian U-21 and U-17 sides. He competed in UEFA European Under-21 Championship Qualifying making his debut on Oct. 8, 2020. Shevtsov scored his first goal against Malta's U-21 team, a 4-1 win for Ukraine. Shevtsov was later loaned out to fellow Ukrainian Premier League side FC Inhulets Petrove for the remainder of the 2020-2021 season. With Inhulets Petrove, he scored two goals across eight appearances.
He returned to Desna Chernihiv in the summer of 2021 and appeared in 12 matches while earning an assist in the Ukrainian Premier League.
"First off I would say that I am very thankful to the club, because the club signed me and showed me their faith," Shevtsov said. "I'm coming to Charlotte only to win every match and improve our skills in every training. I always do my best! I watched some matches online, and I think we have a very strong team. I can't wait to join the team and win for our fans."
The next home match for the Charlotte Independence is scheduled for Sunday, June 26 at 6:00 p.m. ET. It's Men's Health Night presented by Novant Health and your Jacks take on Forward Madison FC. Tickets are available at charlotteindependence.com.