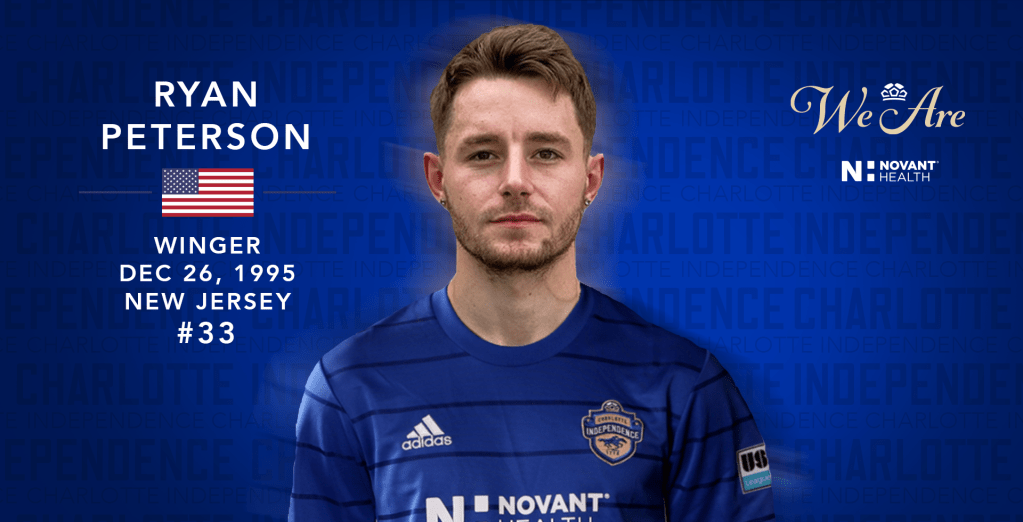 CHARLOTTE, N.C. (September 22, 2022) – The Charlotte Independence announced today the signing of winger Ryan Peterson, pending league and federation approval. Peterson last played for FC Motown in the National Premier Soccer League. 
"We're excited to add Ryan to our group, he adds another attacking element," head coach Mike Jeffries said. "He provides good energy to take on players and create on his own as well as some different ideas in the final third. He will be a good addition, character wise, to our group and he always plays with good intensity. So, as we get toward the end of the season, it's nice to have another option to bring on."
Peterson has spent time in North Carolina. He started his college career at North Carolina State University. With the Wolfpack, he scored three goals and earned two assists across two seasons and 34 matches. After his sophomore season, Peterson transferred to Rutgers University where he appeared in 30 matches for the Scarlet Knights. He finished with a combined 10 assists and
four goals across two seasons and led the team in points his senior season.
Following his college career, Peterson began as a professional with Detroit City FC in 2019 in the National Independent Soccer Association where he helped the club win both the Members Cup and NISA Cup.
Peterson returned to North Carolina in 2020 to join Stumptown AC in Matthews to compete in the NISA Spring Season. He joined Detroit City again later that year to play in the NISA Fall Season and league playoffs scoring one goal and two assists in the postseason.
After his successful run in Detroit, Peterson joined Albion San Diego and scored two goals and earned two assists in the 2021-22 NISA Fall Season in nine appearances.
"I couldn't be more happy with how things are coming along," Peterson said. "I came down with the mentality to make the team, mesh with the guys and start building bonds as we head into the end of season and look into the playoff picture. I'm here to do a job to the best of my ability as well as push my teammates to do the same."
The Independence host North Carolina FC this Saturday, September 24 at 7:00 p.m. as a part of Latin Heritage Night presented by Blue Cross Blue Shield of North Carolina. Tickets can be purchased at charlotteindependence.com.