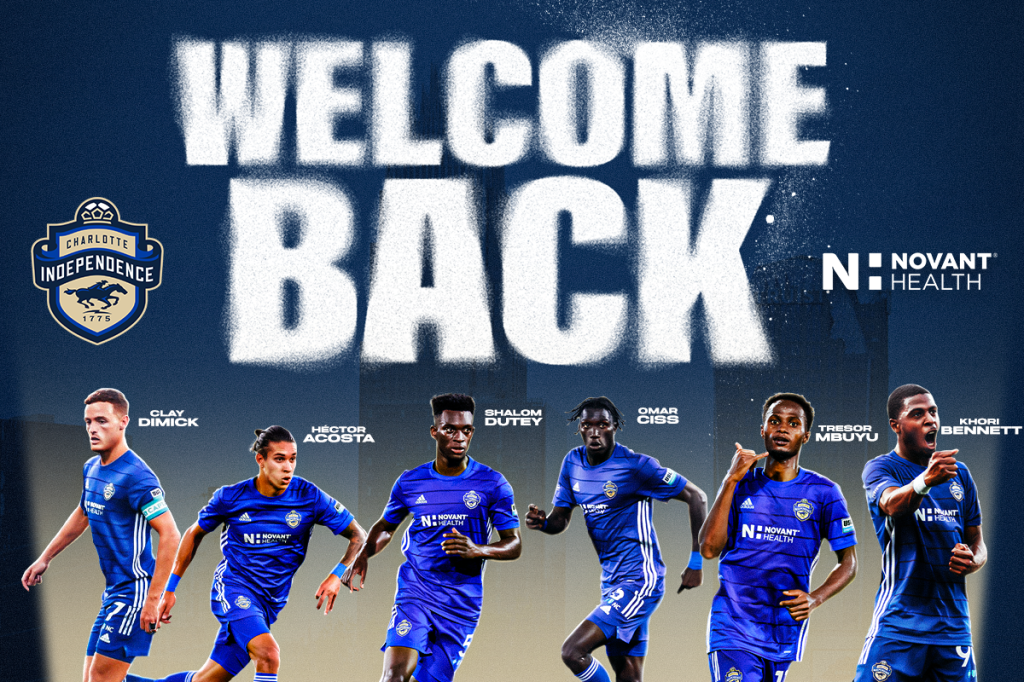 CHARLOTTE, N.C. (December 7, 2022) – The Charlotte Independence today announced the club has re-signed six players for the 2023 USL League One Season. Those returning to the Queen City include:
Defenders – Clay Dimick, Shalom Dutey and Héctor Acosta
Midfielder – Omar Ciss
Forwards – Tresor Mbuyu and Khori Bennett
"We are delighted to maintain a core group of our players from our first USL League One Season and are looking forward to announcing additional player signings as we build the roster for 2023," explained Charlotte Independence Head Coach, Mike Jeffries. "This group of players came together well in 2022 and were consistent contributors to our successes last season. The current signed group of players all had breakout seasons in 2022, and I look forward to seeing them continue their developmental progress."
Clay Dimick (D)
Dimick returns for his fifth season in Charlotte. In 2022, he was named Team Captain and started every match for the Jacks. On defense, he helped secure six clean sheets and co-led the team in interceptions with 37.   
"Charlotte, and the Independence, are home to my family and I," stated Dimick. "I couldn't be more honored and grateful to represent this club. I can't wait to get back to work with the players and staff, and ultimately bring a championship to our fans and club who deserve it so much. I am excited to get back to American Legion Memorial Stadium and play in front of the best fans in the league again. The support they give us every week is incredible."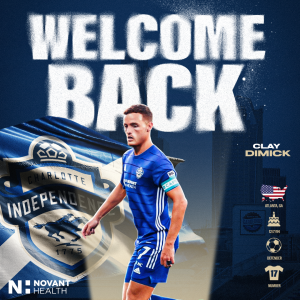 Shalom Dutey (D)
Dutey, also a consistent presence in the Jacks back line, returns for his third season with the club. He started in 28 of 31 games and led the team in clearances and blocks while co-leading in interceptions. Dutey also scored four goals on the season, one of which was during the Lamar Hunt U.S. Open Cup.
"I'm grateful to be staying in Charlotte, my home," Duty said. "I'm looking forward to bringing a title here."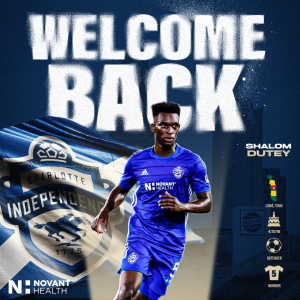 Héctor Acosta (D)
Following his first season in the United States, Venezuelan defender Héctor Acosta will return to Charlotte for the 2023 season. He started as a defender in 15 matches for the Jacks in 2022 while also scoring two goals, both on set pieces, and recording one assist.
"Being in Charlotte for another season excites me a lot because this city feels like another home to me," Acosta said. "I will be able to achieve and fulfill many objectives in this 2023 season, including the challenge of winning the tournament this year."
Omar Ciss (M)
USL League One All-League First Team and USL League One Young Player of the Year Nominee, Omar Ciss is set to return to Charlotte for the 2023 season. In 2022, he was essential to the Jacks success on both defense and offense. Ciss started in 30 games and scored three goals with two assists. He also led the team in tackles (34) and duels won (142).
"I'm so happy to be back and ready to go back to work," said Ciss. "I'm so excited to play in front of the amazing fans who are always supporting us. I can't wait to get started and lead the team into the championship."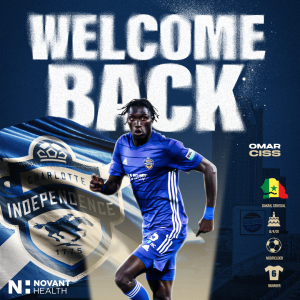 Tresor Mbuyu (F)
Following a breakout season, Mbuyu returns for his third year with the Jacks. He scored 11 goals and notched five assists in 2022 helping the club earn its third consecutive playoff appearance. Mbuyu was also named USL League One Player of the Month in April after recording three goals and one assist in the team's first month of competition.
"I am excited to return back with the team, and I'm happy to be able to contribute even more this season," stated Mbuyu. "I feel blessed and ready to pick up where we left off."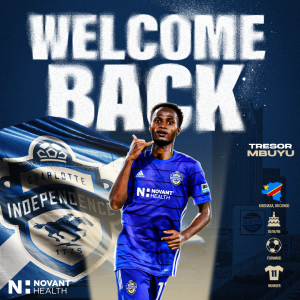 Khori Bennett (F)
Charlotte's other 2022 co-leading goal scorer returns for his second year with the club. Bennett also scored 11 goals last season, ranked sixth best in USL League One. In addition to four assists, he recorded the team's lone hat trick during a 4-0 win at American Legion Memorial Stadium.
"I'm happy to be returning to Charlotte for 2023," Bennett said. "I'm looking forward to scoring lots of goals and building on the success we had last year."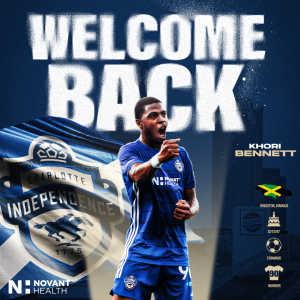 2023 Season Tickets are on sale now with packages as low as $5 per game. For more information, please visit charlotteindependence.com.
ABOUT CHARLOTTE INDEPENDENCE:
The Charlotte Independence is a Division III professional men's soccer team based in Charlotte, North Carolina. The club, founded in 2014, currently competes in USL League One and plays all home games at the newly renovated American Legion Memorial Stadium. As part of the Queen City Soccer Club, our mission is to make Charlotte a better place to live through sports. For information on club news, season tickets and more, visit charlotteindependence.com.