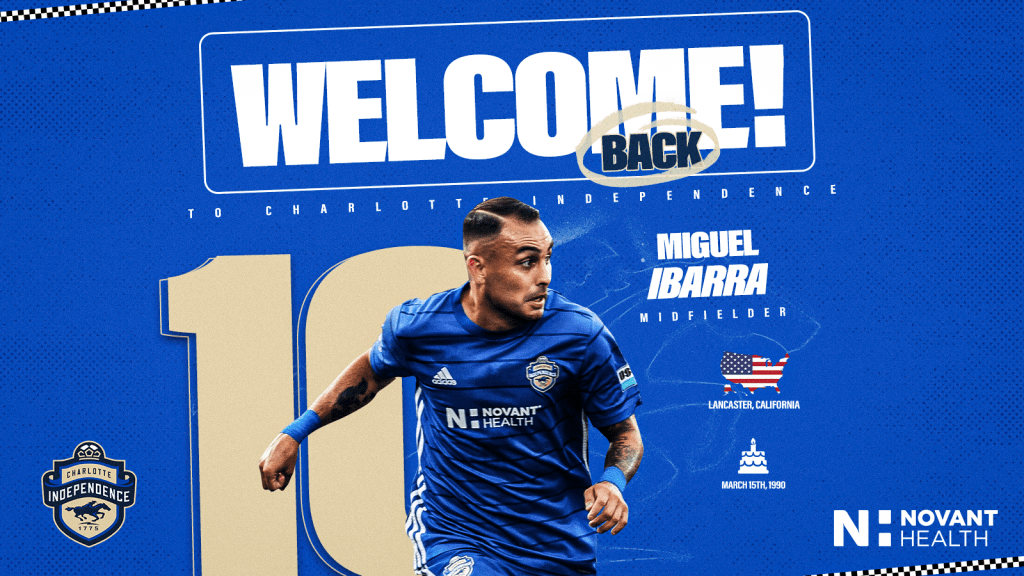 Veteran midfielder enters his second season with the Jacks
CHARLOTTE, N.C. (January 10, 2023) – The Charlotte Independence announced today the re-signing of midfielder Miguel Ibarra for the 2023 season. Ibarra led the team in assists last year with seven and scored three goals to help the Jacks make the 2022 USL League One Playoffs.
"It's huge for us to bring Miguel back," Head Coach, Mike Jeffries said. "He, not only, can do it all, but he's a great guy, a team leader and a super positive influence in the locker room. Clearly, the real plus side is he not only can compete and impress in every game he plays, but he can play in a number of different spots and is very comfortable in a number of different roles on the field."
Before joining the Independence, Ibarra played with USL Championship side San Diego Loyal in 2021 and scored two goals in 28 appearances. He made 12 appearances with the Seattle Sounders in MLS during the 2020 season and played in the CONCACAF Champions League against Honduran side C.D. Olimpia.
Ibarra began his experience in MLS with Minnesota United during the club's inaugural season in 2017. He appeared in 84 games and scored 11 goals over three seasons. Ibarra began his time with Minnesota United in 2012 in the North American Soccer League (NASL). In four seasons, he was named to the NASL Best XI (2013, 2014), NASL Player of the Month (2014) and was awarded the Golden Ball (2014) as the league's best player at the conclusion of the season.
He spent time in Mexico with Club Léon in Liga MX from 2015-2017 and scored one goal in eight appearances.
Ibarra began his soccer career at Taft College and was named Central Valley Conference MVP. He then transferred to UC Irvine before his junior year. In his senior season, Ibarra earned All Big West First Team honors and was awarded the Big West Offensive Player of the Year.
"I'm excited to be back in Charlotte and be playing with the Independence and be playing with this great organization and coaching staff," Ibarra said. "More importantly, I'm happy to be back with a great core of guys! I can't wait to be back and get going again. I think we have a little sour taste in our mouth from losing in the playoffs so we are ready to comeback and work toward that goal of bringing Charlotte and the fans a trophy."
The Charlotte Independence kick off the 2023 USL League One season against the Richmond Kickers on Saturday, March 18 at American Legion Memorial Stadium. Season tickets are on sale now at charlotteindependence.com.