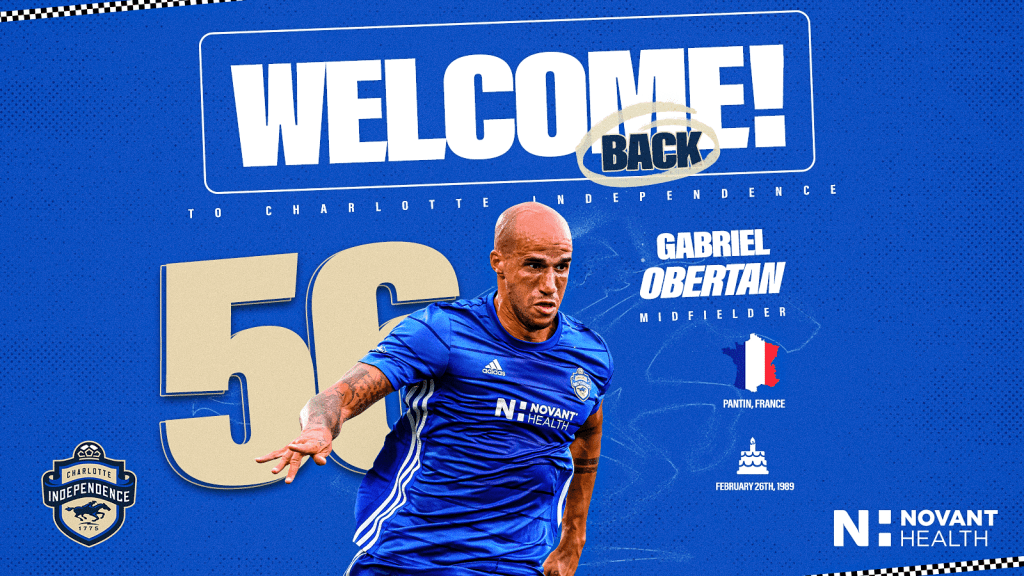 Former Manchester United and Newcastle United midfielder returns for his third season with the Jacks
CHARLOTTE, N.C.(January 21, 2023) – The Charlotte Independence announced today the re-signing of midfielder Gabriel Obertan for his third season with the Jacks. Last year, Obertan scored four goals and provided three assists for the Independence, leading the team to their first USL League One playoff appearance.
"I am excited for Gabriel's return to the Independence in 2023. Having a player of his caliber raises the bar for our group every day, from both his leadership and his quality," stated Charlotte Independence Head Coach Mike Jeffries. "Importantly though, it's his third year with us and it will be the first time he has been with us for the entire season. With the ability to pull off a game changing play at any moment, Gabriel adds a high level of quality and composure to our attack and brings added confidence to the team."
In his first season with the Independence, Obertan scored five goals and earned two assists to help lead the Jacks to the 2021 USL Championship Conference semifinals.
Before he joined the Independence, Obertan played for Turkish side Ezurumpsor and scored a combined eight goals and earned five assists across 71 appearances from 2018-21. Prior to his time in Turkey, Obertan played with Levski Sofia in Bulgaria (2017-18), English side Wigan Athletic (2017), and Russian club Anzhi Makhachkala (2016).
Obertan played with Newcastle United in the English Premier League before making the move to Anzhi Makhachkala. With Newcastle, he scored three goals and earned 10 assists across 77 appearances from 2011-16 in the Premier League and UEFA Europa League.
He began his stay in the Premier League with Manchester United from 2009-11. He appeared in both league play as well as the UEFA Champions League with the Red Devils. Obertan scored one goal and provided four assists across 27 appearances, one goal and two assists came in Champions League play.
Obertan began his professional career with French club Bordeaux and appeared in 79 games, scored six goals and provided five assists between 2006-09. He left Bordeaux for a short stint with fellow French side, FC Lorient, where Obertan scored two goals in 17 appearances.
"I didn't need much convincing to keep the adventure going," Obertan said. "I can't wait to be back in action and I am really looking forward to this new season."
The Charlotte Independence kick off the 2023 USL League One season against the Richmond Kickers on Saturday, March 18 at American Legion Memorial Stadium. Season tickets are on sale now at charlotteindependence.com.