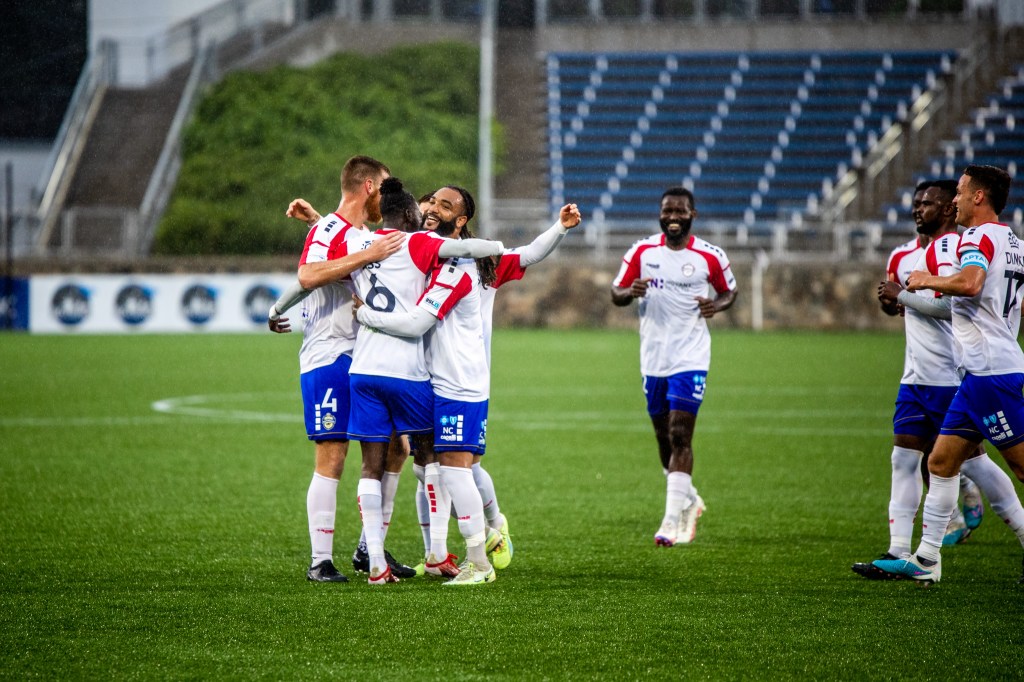 Goals scored by #8 Joel Johnson (15'), #6 Omar Ciss (20') and #11 Tresor Mbuyu (66')
Charlotte, N.C. (May 27, 2023) – The Charlotte Independence scored three goals, and secured their fifth clean sheet, against the Chattanooga Red Wolves SC on Saturday night at American Legion Memorial Stadium. The Jacks are back at home next Saturday, June 3 to host the visiting Union Omaha at 5:00 p.m. Tickets are on sale now at charlotteindependence.com. 
"We had a good week training, and we came in with confidence from last week's game against North Carolina FC," stated Charlotte Independence Head Coach, Mike Jeffries. "We definitely wanted to push the tempo early and be able to press. I think it was fantastic that we had a great early goal from Joel. That kind of opened the game up for us a little bit."
It was wet and windy conditions for the Independence at American Legion Memorial Stadium, but that did not stop the Jacks from getting on the board early. In the 15th minute, #8 Joel Johnson scored his first goal of the season. It came from a one-two combination between #9 Dane Kelly and #17 Clay Dimick. Dimick laid off a short pass to Johnson who took the strike from well beyond the 18 yard box and found the lower left corner of the net. Charlotte took the lead by one.
"It's exciting. It was cold, but we got three points. It was our second straight win at home, and we're very happy," Johnson stated.
Earlier this week, it was announced that Johnson is the new All-Time Appearance leader for the Charlotte Independence. He shared how much Charlotte means to him, explaining, "It's a lot. I came here 8 years ago. This is where I raised my kids and where I came as a kid. I grew up here, and I'm really excited to be the guy with the most appearances especially because during the years I have played here with the Independence I've played with great players and great people, so it feels really good."
When asked about how he's seen Johnson develop throughout his time with the Independence, Jeffries explained, "Joel has always been a talented player. He was fantastic and had a great background before he came here, and he's always been a big impact when he played right back. For us, we always felt like he was the best right back in the league and deserved looks above. Just to have a player of his caliber come in and want to be in Charlotte is huge. In addition to being a quality player he's just a great guy to have in the locker room with the team and it's been really fun getting to know him."
Five minutes later, Chattanooga's #23 Manuel Madrid committed a foul which resulted in the first yellow card of the match. The free kick resulted in Charlotte's second goal of the night. It was #6 Omar Ciss who stepped up. His approach, confident. His technique, clinical, finding the upper left corner. Jacks led by two.
Chattanooga's first corner kick of the night came in the 44th minute and may have been one of their best chances in the first half. The cross came in and a couple Red Wolves got up for it causing traffic in the box. Charlotte goalkeeper #1 Austin Pack commanded his box and went up to regain possession for the Jacks.
Halftime: Charlotte Independence 2 – Chattanooga Red Wolves SC 0
The second half presented even more opportunities for the Independence attack. To start, #11 Tresor Mbuyu dribbled to the top of the box. He took a right footed shot, but flew high over the crossbar.
Chattanooga found themselves at the corner again in the 50th minute. This time it was #15 Walter Vanela who served it into the box. The Independence quickly cleaned it up and cleared the ball out to safety.
Pack recorded his save of the game in the 57th minute. Chattanooga found their way into the box and took a low strike, but Pack made a diving save to secure his 5th clean sheet of the season.
The final goal of the match came in the 66th minute by way of Mbuyu. A misplaced ball by Chattanooga led Mbuyu into open space and a 1v1 with goalie. He struck it low, with pace, and into the lower left corner for his second goal in two games.
"Credit to all my teammates for coming together and battling every day as we came out to play at home," Mbuyu shared. "We just help each other to move forward. I was just waiting for the right time to come, and it did happen."
When asked about Mbuyu's performance in the last two games, Jeffries explained, "The important thing was getting the first goal for Tresor and getting him a confidence boost. He's been playing hard and been playing well, it's just the goals weren't coming. To get the first one, even if it was kind of a deflected tap in, it was huge. Hopefully, that is going to carry through."
Final: Charlotte Independence 3 – Chattanooga Red Wolves SC 0
"To be up 2-0 at halftime, we've never been there before this year so it's nice for sure," Jefferies said. "I thought we did a good job managing the game. Austin, again, came up with a big play, and it's nice to get goals from a couple of different people. Also, to keep the strikers getting goals was a big plus."

NEXT ON THE SCHEDULE: The Charlotte Independence are back at home Saturday, June 3 for Men's Health Night presented by Novant Health. The Jacks host Union Omaha and first kick is set for 5:00 p.m. Tickets are on sale now at charlotteindependence.com.