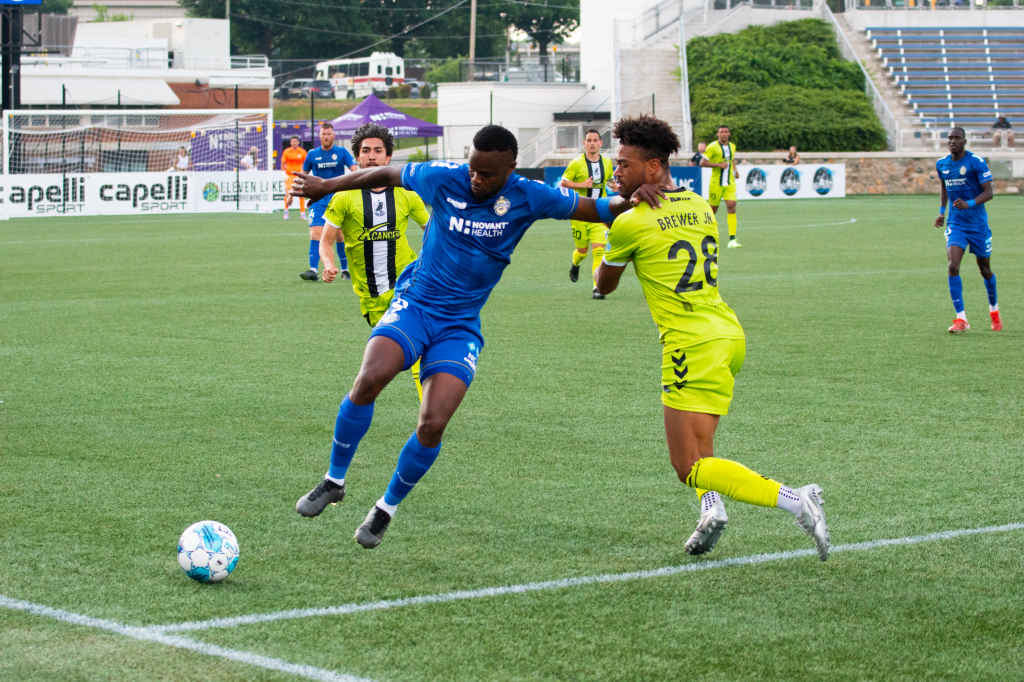 Goals scored by #8 Joel Johnson (7'), #11 Tresor Mbuyu (55') and #90 Khori Bennett (87')
Charlotte, N.C. (June 3, 2023) – The Charlotte Independence won their third straight game Saturday evening defeating Union Omaha 3-0 at American Legion Memorial Stadium. The Jacks are off next week and then hit the road for three consecutive matches. Fans can live stream all Charlotte Independence away games for free on Bahakel Sports.
After previously playing Omaha to a 0-0 draw, Head Coach Mike Jeffries explained his thoughts on the key differences in tonight's match, "An early goal helped us out for sure. I thought we were very compact defensively, and I thought we did a much better job defensively. We conceded a lot of chances and just relied on Austin the first game, but I thought defensively we were good and I thought we were very good in transition. We got chances off of counters and got a couple of goals off of counters so I thought that was a real plus for us and an adjustment from the first game."
The Charlotte Independence got after it early in the match when #4 Nick Spielman took the ball off an Omaha midfielder. #12 Brad Dunwell collected it and split two defenders with a through ball to #10 Miguel Ibarra. Ibarra took one, long touch to beat the keeper and #8 Joel Johnson was there to put it away. The Jacks went up early 1-0.
"Nick stepped in and poked the ball out and put me in a super position to counter," Dunwell stated about how the Jacks first goal developed. "Miguel made a fantastic run, I mean he probably saw the gap before me. I slipped it through and the rest is history. Just happy to get the goal from that play."
After a misplayed clearance into the Union Omaha attacker, #1 Austin Pack was forced to make a diving save to keep his hopes for a 6th clean sheet alive.
Union Omaha looked to tie the match in the 24th minute. It was #7 Noe Meza who took a shot from the top of the 18 yard box after #28 Shaft Brewer Jr. dribbled down from midfield, weaving his way through defenders. The play was ultimately stopped by Charlotte's Pack, who punched the ball up and over the goal.
In the 43rd minute, Omaha's earned a corner kick which was taken by #20 Luis Gil. He sent the ball into the box and found #10 Steevan Dos Santos whose header missed just right of the post.
Halftime: Charlotte Independence 1 – Union Omaha 0
Charlotte's #11 Tresor Mbuyu picked up the energy for the Jacks in the second half racing in behind and applying pressure to the Omaha defense. In the 55th minute, he won the ball on defense and took it by himself all the way to net. He dribbled, beating several defenders, and slipped a low shot near post, beating the Omaha keeper.
In the 58th minute, Omaha had another look at goal. This time it was a free kick taken by Meza that was bending towards goal. The shot hit the crossbar and went out of play, keeping the Independence up 2-0.
Late in the second half, Union Omaha had one last dangerous attempt at breaking down the Independence back line. In the 78th minute, #17 JP Scearce took a shot from the top of the box, but sent it straight into the hands of Charlotte's Austin Pack.
To cap off the night, Charlotte's #90 Khori Bennet came off the bench to score in the 87th minute. It came off a cross from #14 Luis Alvarez. Bennet then dribbled into the 18 yard box and took a left footed shot that bounced off an Omaha defender and trickled into the goal.
With the final score coming to 3-0 in favor of the Independence, goalkeeper Austin Pack and the Jacks back line have earned their 6th clean sheet of the season.
"I think the backline has been really great. I think over the past games that we've played, especially in the first quarter, we've learned how each other plays. I think we really have gotten to know each other and connect really well, so now it's all about just maintaining what we have learned about each other," center back #5 Shalom Dutey stated. "There's times where Austin knows what we're going to do and we know what Austin is going to do so we're really understanding each other, and we're working together and going for it so we're going to see a lot more clean sheets."
Final: Charlotte Independence 3 – Union Omaha 0
"The guys will get a little bit of a well deserved break so I think that is a plus," Jeffries said about the upcoming bye week. "Then we have to get back into the rhythm and sometimes it's tough after a couple of weeks to get going again. I think it's a great home stand for us and certainly a lot that we feel good about and can build on. The rest of this stretch has some tough road trips and we have to continue to play as well as we can, and as well as we have been, and be solid defensively."
NEXT ON THE SCHEDULE: The Charlotte Independence are back in action on Saturday, June 17. They are on the road, taking on One Knoxville SC at Regal Soccer Stadium in Knoxville, Tennessee. All Charlotte Independence away games can be live streamed for free on Bahakel Sports.