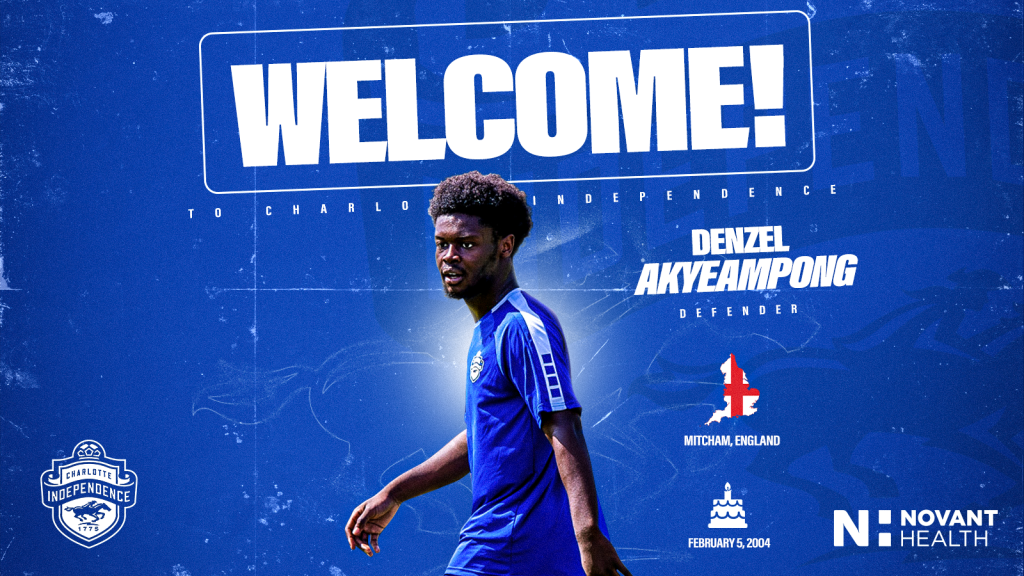 The outside back trialed with multiple European clubs
CHARLOTTE, N.C. (June 23, 2023) – The Charlotte Independence announced today the signing of defender Denzel Akyeampong to the USL League One squad. Akyeampong trained with the Independence during preseason sessions.
"I'm excited to join the Independence and can't wait to play with a quality group of lads," Akyeampong commented.
Akyeampong joins the Independence from Fox Soccer Academy in England. There, Akyeampong was part of the FSA PRO scholarship program which competes in the top U16-U19 youth competitions in the United Kingdom. In April, Akyeampong was named Man of the Match in the FSA PRO London's EFCA National Semifinal match, leading the team to the national finals. The defender has previously participated in trials with West Bromwich Albion U23s (England) and AB Fodbold (Denmark).
"We are excited to add Denzel to our roster – another young player we believe has a huge potential upside," stated Charlotte Independence Head Coach, Mike Jeffries. "As an outside back, Denzel is capable of creating in the final third off the dribble or in combination and has the ability to create and finish chances. He possesses exceptional pace and physicality, especially for his age, as well as strong competitive instincts."
The Charlotte Independence are back in action on Saturday, June 24 on the road against Chattanooga Red Wolves SC. First kick is set for 7:30 p.m.