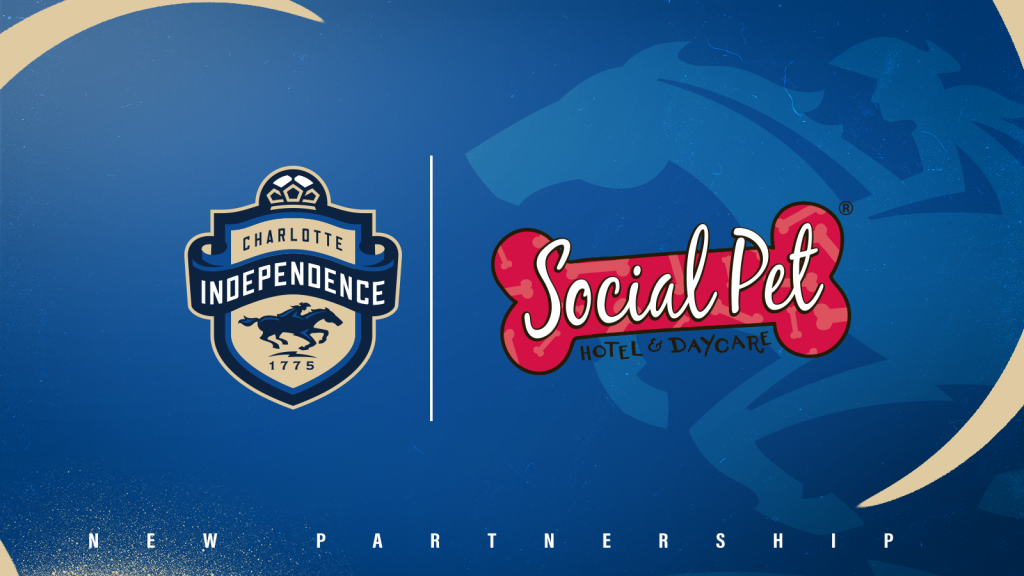 Social Pet is named the Official Pet Partner of the Charlotte Independence
CHARLOTTE, N.C. (September 13, 2023) – The Charlotte Independence announced today a two-year partnership with Social Pet, a locally owned and community-focused pet care facility with three locations in the Charlotte metro region. The partnership will bring new experiences for fans on match day and welcome the city's four-legged friends to the Independence family.
"We are thrilled to have Social Pet as our Official Pet Partner for the Charlotte Independence. Their ownership group has been fantastic to work with," stated Alex Kantor, Executive Director of Corporate Partnerships for the Charlotte Independence. "They are passionate about providing a high quality product for this community, and together as soccer fans, we are all very excited to help combine these passions and create new experiences on game day for our fans."
Starting in 2024 the Charlotte Independence will execute the club's first Pups at the Pitch Night at American Legion Memorial Stadium. Fans will get the chance to cheer on the Jacks pitch side with their pups.
The Independence and Social Pet will also launch a social media contest this month called the "Charlotte Independence Four-Legged Fan of the Month". Fans are encouraged to submit photos and videos of their dogs for the chance to win a co-branded dog bandana.
"We are excited to partner with Charlotte Independence by providing an exceptional experience for soccer fans, players and their furry loved ones on and off the field!" explained Amy Hillis, Co-Founder of Social Pet.
Social Pet believes quality pet care starts with caring, knowledgeable people who are passionate about enriching dogs' lives. They have committed to educating pet parents about dog behavior, and why it's important to understand that all dogs are unique and deserve customized care. Social Pet offers daycare, grooming, lodging, and training services. Visit their www.socialpethotel.com to learn more.
ABOUT SOCIAL PET:
At Social Pet, they recognize that all dogs are unique. That's why their approach is to identify your pup's unique personality traits, behavior, and needs, to customize your services and provide an enriching and fulfilling experience. Social Pet values education and training to provide the safest possible environment for your pups. In fact, Social Pet's owners are 2 of the 4 people in the entire state of North Carolina who are certified to operate a pet care business!
ABOUT CHARLOTTE INDEPENDENCE:
The Charlotte Independence is a professional men's soccer team committed to making Charlotte a better place to live through sports. The team is based in Charlotte, N.C. and competes in USL League One. All home games are played at American Legion Memorial Stadium. An ownership group led by Jim McPhilliamy founded the club in September 2014 after acquiring the USL franchise rights from the Charlotte Eagles. For more information, visit charlotteindependence.com or follow the club on social media via Instagram, Twitter and Facebook.