Flanders was a two-time Captain of the Charlotte Independence WPSL team.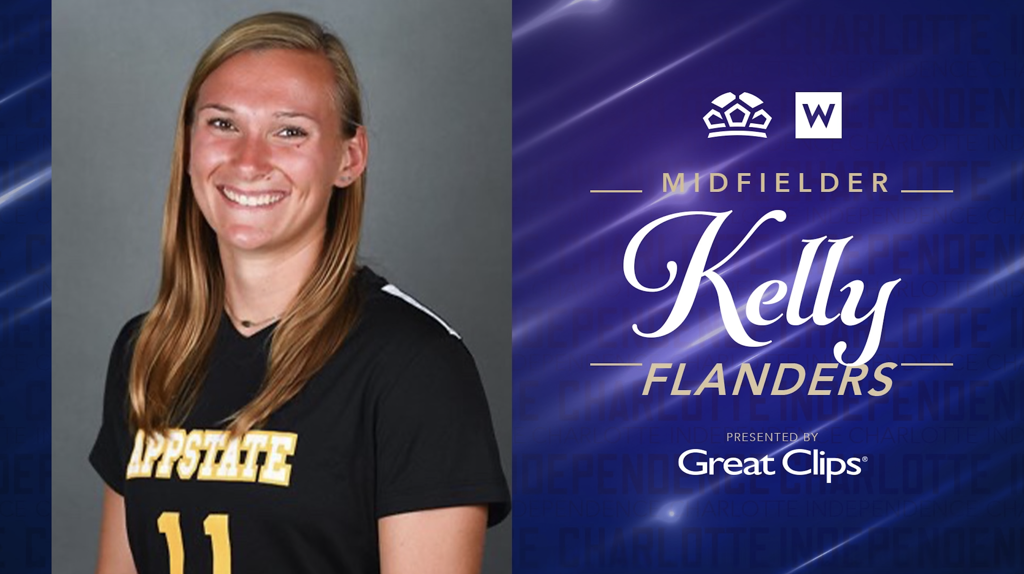 CHARLOTTE, N.C. (March 1, 2022) – The Charlotte Independence USL W League Team today announced the signing of their first player, Kelly Flanders, ahead of the inaugural 2022 season. Flanders competed with the Charlotte Independence Soccer Club as a youth player and was a two-time captain of the Charlotte Independence WPSL squad where she competed from 2016-2021.
"We are thrilled to have Kelly sign with us again. She is a veteran within our club and will bring a wealth of experience and leadership to our team as we head into our first season with the W League," explained Charlotte Independence Women's Head Coach, Robyn Horner. "Having grown up in the club, and having played with us for the past few Summers in our semi-pro leagues, she understands the values of the club and the level of play that is required to be competitive. Having a player like Kelly will help us tremendously as we look to set positive examples, not only for our team standards, but to also show a strong example of our player pathway from youth to semi-pro to the women of the Charlotte Independence."
Flanders was a four-year starter at Appalachian State University from 2014-2017. As a Freshman, she started all 19 games at the back line for the Mountaineers and was second on the team in minutes played with 1,702. Flanders started in all 20 games as a defender during her Sophomore campaign and was third on the team in minutes logged (1,775). She was one of only nine players to log more than 1,000 minutes that season.
"It is an honor to represent the Charlotte Independence and my youth club in the W-League this Summer," said Flanders. "I am thrilled to be a part of the growing opportunities for elite women soccer players. I hope that we will leave a mark on our city, the game, each other, and the many women athletes to come. Let's get after it! #WeAreCLT #ForTheW"
In her Junior season, Flanders appeared and started in all 20 games and notched one goal and two assists for four points on the season. She was fourth on the team in shots on goal (12). Flanders captained the Mountaineers during her Senior season where she started in 16 of 19 games and logged 1,508 minutes.
Flanders attended Hopewell High School in Charlotte, N.C. where she was a four-year letter winner. She received All-Conference and All-Region honors during her Sophomore and Junior seasons. Flanders concluded her high school career with 45 goals and 13 assists.
"As we approach the season, we're excited to share the amazing and talented women who will be representing the Charlotte Independence in the W League," stated Charlotte Independence President and COO, Tim Schuldt. "We're excited that the pathway we are creating is providing new opportunities for our current and former academy players like Kelly Flanders. We're pumped to see her in action at American Legion Memorial Stadium!"
The Charlotte Independence USL W League Team kicks off their inaugural season on Sunday, May 15 at 3:00 PM (ET). The women will host Greenville Triumph SC at American Legion Memorial Stadium. To view the full schedule and purchase your season tickets, please visit charlotteindependence.com/schedule-uslw.