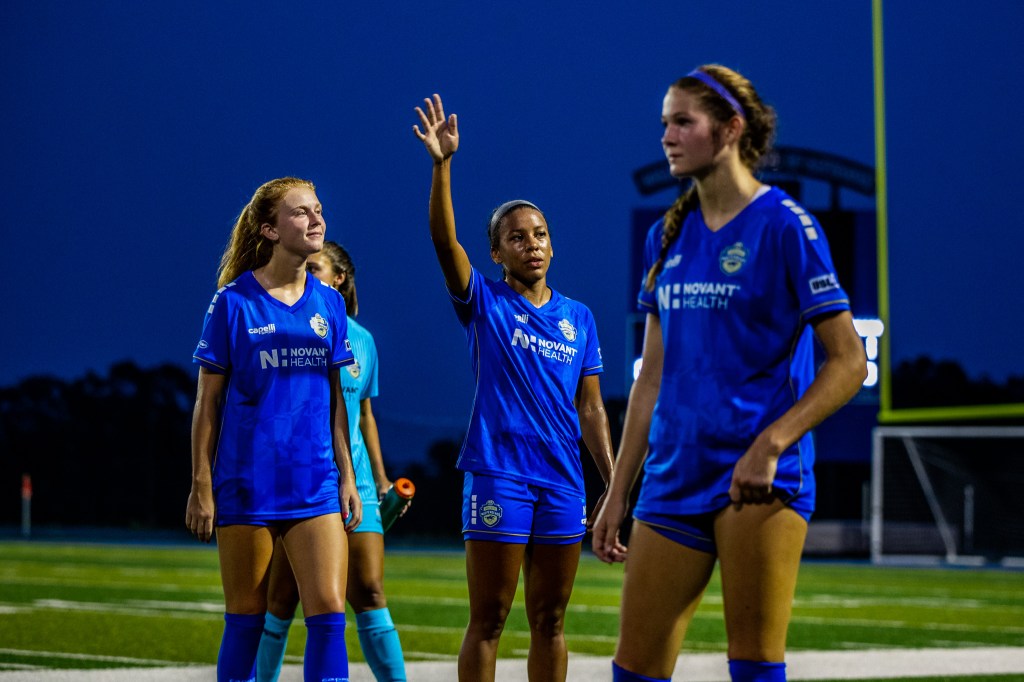 MONROE, N.C. (July 1, 2023) – The Charlotte Independence USL W League team suffered a loss against FC Carolinas on Saturday evening at Monroe High School during their last match of the summer.
Both teams were looking for opportunities to score from the very first minute of the match. In the 7th minute, #12 Ayden Yates of the Independence made a long cross from out wide into the center of the 18 yard box. Yates looked for teammate #24 Chentay Warnes in the middle, but ultimately the play resulted in a save by FCC goalkeeper Laura Vogt.
Juliana Viera of FC Carolinas created many opportunities for her team throughout the first half. In the 20th minute, Viera took a shot from long range, sending it just wide of the net and out of play for a Charlotte goal kick.
In the 29th minute, Viera again found herself in scoring position and this time was able to put one on the board for FC Carolinas. Teammate Jeanette Fieldsend played in a cross from the wing towards the back post. Viera got on the end of it and was able to make a finish into the bottom right corner of the net for the first goal of the match.
Nearing the end of the first half, #10 Fieldsend of FCC fought off the Independence defense and dribbled through traffic to make a pass out wide to Caroline Palmer. Palmer made a dangerous touch that ultimately bounced off of the post, almost putting another one up for FC Carolinas.
Halftime: Charlotte Independence 0 – FC Carolinas 1
The second half had a much slower tempo as both teams appeared to settle into the match. The first big opportunity for the Charlotte Independence came in the 60th minute after #18 Sydney Smith fought past traffic and took a huge shot towards the goal. The strike soared high over the net.
Jeanette Fieldsend was playmaker for FC Carolinas creating multiple chances in the attack during the second half. In the 81st minute, Fieldsend dribbled up the pitch through the middle before taking a shot towards Independence goalkeeper #1 Madison Howard. The strike missed high over the crossbar.
FC Carolinas forced Madison Howard to make some big saves for the entirety of the game. In the 82nd minute, Howard had a huge save after #9 of FC Carolinas dribbled past the defense and took a shot on frame.
In the 95th minute, an Independence corner kick by Caroline Peters resulted in a counter attack for FC Carolinas. A 1v1 between a Charlotte defender and #9 of FCC almost resulted in a scoring opportunity against the Independence. Howard stepped well out of the 18 yard box to defend the net and eventually cleared the ball for the last play of the match.
The Charlotte Independence concluded the 2023 USL W League season in 5th place across the South Atlantic Division and an overall record of 4-6-1.
Final: Charlotte Independence 0 – FC Carolinas 1