Thillet was called up to the Puerto Rico National Team in 2017 and 2019.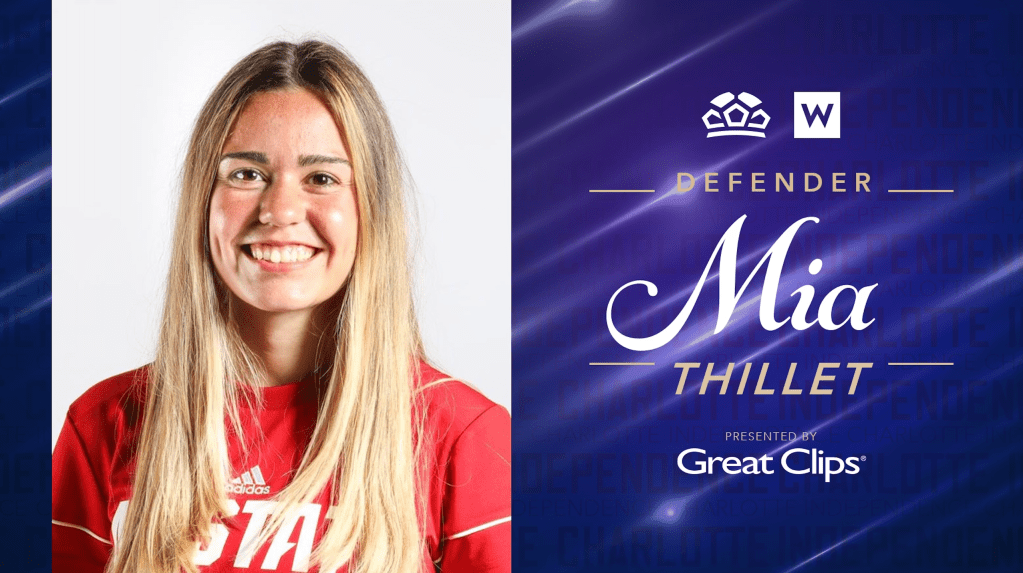 CHARLOTTE, N.C. (March 2, 2022) – The Charlotte Independence USL W League Team announced today that they have signed defender, Mia Thillet, for the club's inaugural 2022 season. Thillet played with Puerto Rico National Team in 2017 and 2019 and won the 2017 US Youth Soccer Championship with the '98 Charlotte Independence South club team.
"We are excited to have Mia back this Summer. She will be another core contributor to the veterans of our squad this season with deep roots in the Independence youth system," explained Charlotte Independence Women's Head Coach, Robyn Horner. "She is a great local talent that grew up in our club and continues to produce positive results for the various teams she has played for. Mia is another perfect example of our women's player pathway to the semi-pro level. She will provide us with experience and stability on defense, and we will look to her local and international experience to lead us through our first season."
Thillet recently graduated from NC State University where she competed on the women's soccer team from 2018-2021. She appeared in 31 games for the Wolfpack, tallied three assists and recorded 1,072 minutes played. At NC State University, Thillet was a two-time Top Ten CAT Scholar Athlete.
"I am so excited for the chance to continue playing soccer after my collegiate career has ended," explained Thillet. "I am looking forward to getting to know all the talented and hardworking women who are on the roster this season. I cannot wait to see what this team accomplishes this Summer!"
Thillet, who was born in Puerto Rico, was first called up to the National Team in 2017. She was called up for a second time in 2019 where she joined a pool of 22 players on a 9 day tour involving training and friendlies.
Additionally, Thillet led the Charlotte Independence to two consecutive US Youth Soccer Regional Championship titles in 2016 and 2017. The team won the 2017 US Youth Soccer National Championship. In 2015, Thillet went to Costa Rica with the Region Three ODP Team and won the International Cup.
Before college, Thillet attended Providence High School in Charlotte, N.C. In 2017, she earned 4A All-State honors and was named Conference Player of the Year. Thillet was a three-time All-Conference selection who led the Panthers to a 2016 State Championship and a 2015 Runner-Up finish.
"The chance to provide a hometown opportunity to Mia Thillet is so good to see," stated Charlotte Independence President and COO, Tim Schuldt. "It's what we hoped the W League would do for us, provide more opportunities for women to chase their dreams on and off the field. We welcome Mia home and to the Charlotte Independence W League team!"
The Charlotte Independence USL W League Team kicks off their inaugural season on Sunday, May 15 at 3:00 PM (ET). The women will host Greenville Triumph SC at American Legion Memorial Stadium. To view the full schedule and purchase your season tickets, please visit charlotteindependence.com/schedule-uslw.