Duncan to help lead Independence women during inaugural USL W League Season and propel Girls ECNL program to new heights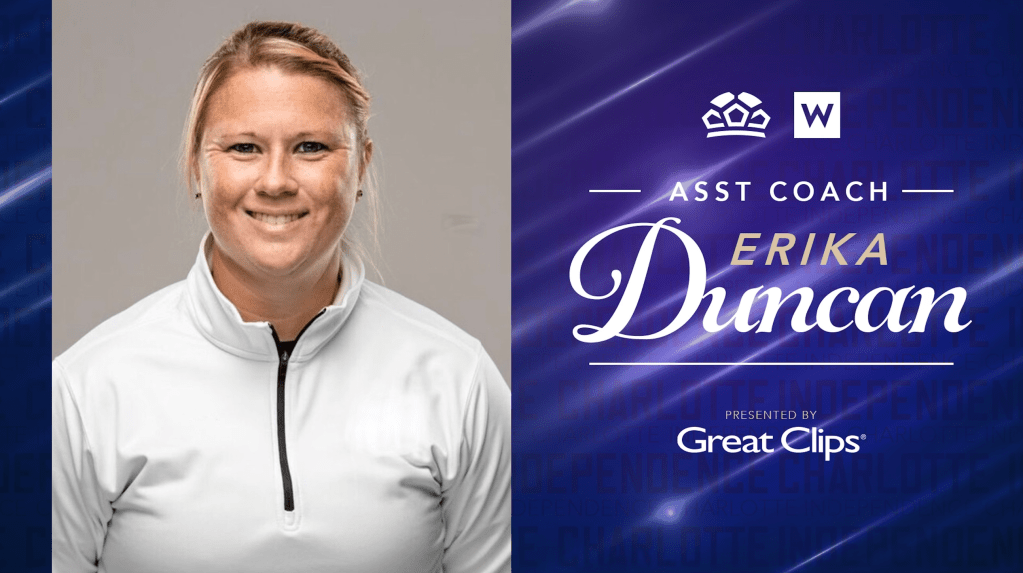 CHARLOTTE, N.C. (April 5, 2022) – The Charlotte Independence and Charlotte Independence Soccer Club today named Erika Duncan as Assistant Coach to Charlotte's newest women's pre-professional soccer team. In her new role, Duncan will also work with the Girls ECNL Regional League North Teams. Previously, she was the Head Coach of the U19 Girls West Virginia United USL Academy Team and assisted with the U19 Boys at the same skill level.
"Erika is fantastic, she'll make an immediate impact on our players, staff and club," said Chief Executive Officer Thomas Finlay. "Our game is definitely being upped with the addition of Erika in our Girls ECNL program and W League. Really looking forward to seeing her coach and develop within our environment."
Duncan worked for West Virginia Soccer Club girl's academy since 2011. Most recently, she was the West Virginia Soccer Association Girl's Competitive Coach of the Year for 2021. As Head Coach, the Girls U19 were National President's Cup Finalist and East Regional President's Cup Champions in 2021. Duncan also coached teams to State Cup Championships in 2011, 2012, 2014, 2015, 2017, and 2019. During her time at West Virginia Soccer Club, she was the Assistant Head Coach for 7 years for the Marshall University Women's Soccer team.
"I am so grateful to Charlotte Independence and Thomas Finlay for this amazing opportunity to join such an established and prestigious club," said Duncan. "The vision and culture of the organization is exactly what I was looking for. I am excited and eager to get started!"
Duncan played NCAA Division l soccer at Marshall University and is considered one of the most decorated athletes to step into the women's soccer program. She still holds records for most career goals (23), second with most game-winners (8), and tied for most consecutive matches with a goal (4). She has the third-most career points (54) and posted back-to-back campaigns with the second-most goals scored in a season (9 in 2008 and 2009). Her success as an athlete did not go without notice as she became All-Conference USA second team (2009, 2010), Conference USA Player of the Week (2011), National Soccer Coaches Association of America (NSCAA) all-region second team (2010), and four-year Deans List Scholar (2007-2011).
"The addition of Erika to our staff as an Assistant Coach is very exciting for many reasons.  It is awesome to have another woman on staff with both youth and college coaching experience," said Robyn Horner, Head Coach of the Charlotte Independence USL W League Team. "In addition to this, she was very successful as a player not only in college, but as a youth international as well with Scotland."
Duncan's journey truly began at home in Easthaven, Scotland, UK. Here, she played for Scotland's' U17's and U19's. She competed in the European Championship and made the Scotland Women's National Team. In 2004, She played for the Newburgh Ladies F.C., Scotland professional team for 3 years before she came to the states for college where she earned a Bachelor of Science in Exercise Science and continued to graduate school where she earned a Master of Science in Sports Administration. 
"Erika being an attacking-minded player will help us be successful on both sides of the ball and create a strong balance from back to front as I was a GK for the majority of my career," said Coach Horner. "She understands what it takes for players to be successful in the collegiate and international game, and her overall experience will be very relatable to our young women.  I am excited to start working with her in a few weeks!  #FortheW!"
The Charlotte Independence women will open their inaugural season with a home match vs. Greenville Triumph SC on Sunday, May 15 at American Legion Memorial Stadium. Kickoff is scheduled for 3:00 PM. Purchase USL W League Season Tickets at charlotteindependence.com/uslw-season-tickets.