Phoenix pair bring youth and experience to the Jacks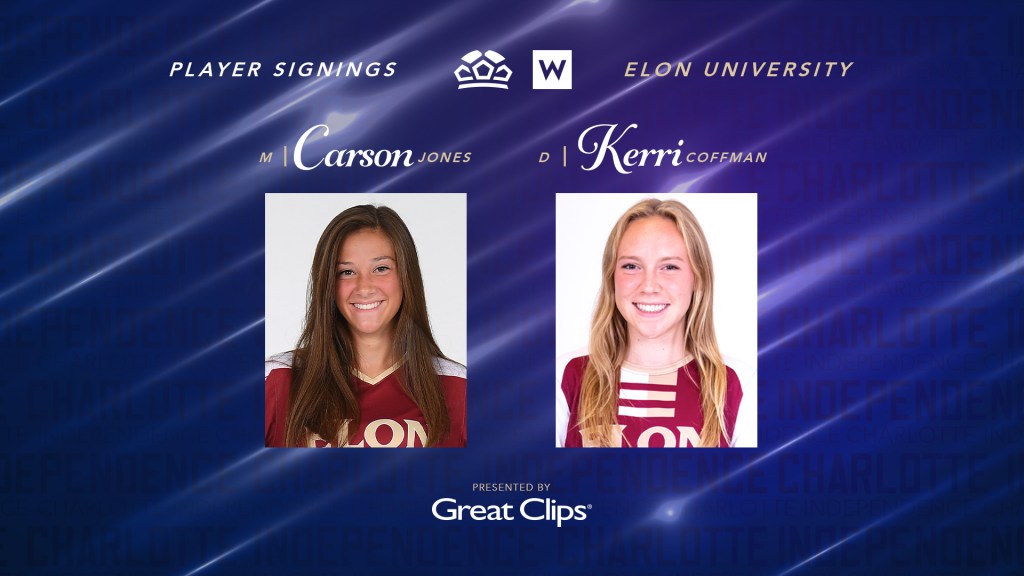 CHARLOTTE, N.C. (May 7, 2022) – The Charlotte Independence USL W League Team announced today the signing of a pair of Elon University midfielders to the inaugural roster. Senior Carson Jones and freshman Kerri Coffman will join the growing midfield.
"We are happy to have another couple of Elon players join the team this summer," Greg Ashton, General Manager of the Charlotte Independence USL W League team said. "Carson recently graduated after a terrific career at Elon and gets to extend her soccer career back in her hometown. She will provide a great attacking influence on the team from the midfield and upfront. Kerri is a tough central defender who is tremendous in the air. It will be awesome to see Kerri back out in an Independence uniform this summer."
At the club level, Jones played with Lake Norman Soccer Club and won three NCYSA Premier League Championships in 2012, 2014 and 2016. She helped lead the Lake Norman Soccer Club 98 Eclipse to two Dana Cup Championships in Denmark in 2013 and 2015 and made three NCYSA State Cup Final Four appearances in 2013, 2014 and 2016.
In high school, Jones played at Providence Day School where she helped lead her team to a 3A-Private State Runner-Up finish and earned her first All-State selection in 2015. She received her second All-State selection the next season and earned All-Region honors in 2016. Throughout high school, she was named All-Conference three consecutive seasons in 2014, 2015 and 2016.
Across her five seasons at Elon, Jones was named the team's MVP in 2018 and 2019 and earned Colonial Athletic Association Second Team Honors in 2020 and 2021. In 2020, Jones was a part of a historic Elon team that won the program's first CAA Championship while also being named the CAA Most Outstanding Player that same year.
"I'm really excited to get back on the field and play with Charlotte Independence this summer! I can't wait to start the season!" Jones said.
Coffman played high school soccer at Lake Norman High School and started her high school career by winning Rookie of the Year for Lake Norman in 2017. She later captained the team her junior and senior years and won team MVP in 2019. Coffman was named All-Region and All-Conference in 2018 and 2019.
Coffman spent time in the Charlotte Independence Youth Academy and traveled to play with fellow Elon and W League teammate Kennedy Jones in Sweden, Portugal, Denmark and Iceland. In her two seasons at Elon, Coffman was a part of the CAA Championship winning team as a freshman and appeared in three games her sophomore year.
"I am super excited to be in an environment where I am surrounded by great players that I know will make me better every day," Coffman said. "I am looking forward to playing with previous club teammates and competing! I can't wait to return to my former club!" 

The Charlotte Independence USL W League Team kicks off their inaugural season on Sunday, May 15 at 3:00 PM (ET). The women will host Greenville Triumph SC at American Legion Memorial Stadium. To view the full schedule and purchase your tickets, please visit www.charlotteindependence.com/2022-womens-usl-w-league-schedule/.