Jacks' defense takes shape with new faces ahead of inaugural season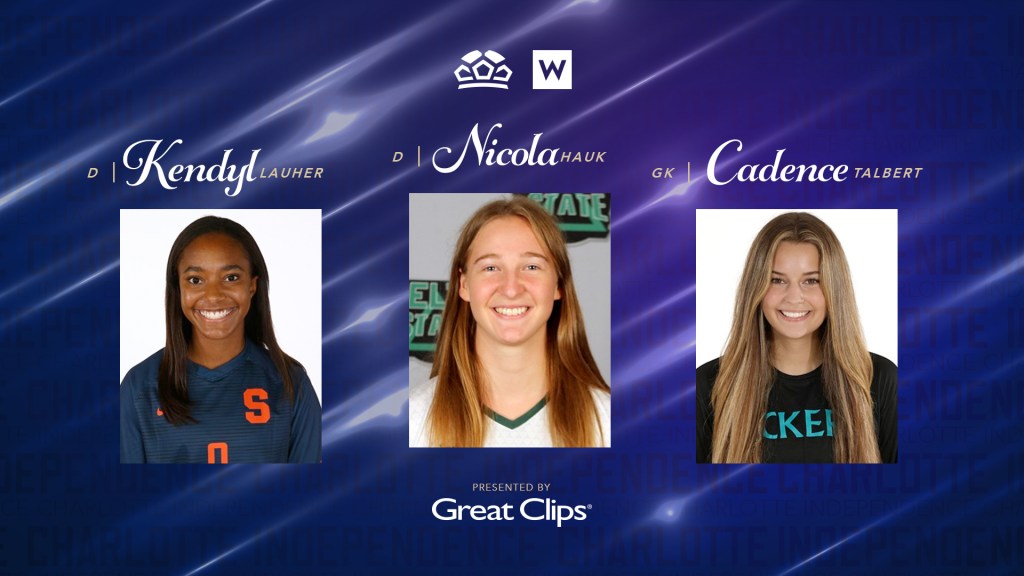 CHARLOTTE, N.C. (May 9, 2022) – The Charlotte Independence USL W League Team announced today the signing of goalkeeper Cadence Talbert and defenders Kendyl Lauher and Nicola Hauk for the 2022 season.
"It will be exciting to see Kendyl back out on the field and see her using her tremendous athletic ability as she looks to give us an attacking threat from the outside back position," Greg Ashton, General Manager of the Charlotte Independence USL W League Team said. "We are very fortunate to have Nicole playing for us this summer as she prepares to head off to the Big 10 with Nebraska in the fall. She is a very composed center back who reads the game extremely well. This enables her to break up attacks and then start transition opportunities that we can exploit. Cadence is an extremely athletic keeper with great range. Playing this summer will give her the opportunity to build experience and continue her development as a keeper.
At Geneso High School in Geneso, Illinois, Talbert was named the Team MVP and the Top Defensive Specialist as well as Big 6 Player of the Week honors.
Talbert joins the Jacks after her freshman year of college at Eckerd College. In her first season, she was the starting goalkeeper for the Tritons and played a combined 1,076 minutes in the fall season. She posted four shutouts while making 55 saves and posted a 74.3% save percentage during her first season.
"I am most excited to share my love of soccer with other experienced players, all while improving my athletic and technical abilities," Talbert said. "Dedicating my time to soccer outside of college is a great way to expand my knowledge of the game, and I get to share this time with players who have the same athletic persistence as me!"
Lauher, a Davidson, North Carolina native, played high school soccer at Cannon School where she was named the Offensive MVP in 2018 and 2019 by her head coach. She earned First Team All-Conference honors in 2019 and Second Team All-Conference in 2018. In her final high school season, Lauher scored nine goals and earned 15 assists.
She returns to Charlotte Independence after playing with the team's ECNL team where she was named to the Mid-Atlantic All-Conference team in 2021. During her freshman season at Syracuse, Lauher played in all 17 games and earned an assist against ACC opponent Louisville.
"I'm so excited to come back home with former teammates and be pushed into a new level of my game as I prepare myself for another difficult ACC season," Lauher said. "Being able to represent the club again is exactly how I'd want to spend my summer."
Hauk comes to Charlotte after playing two seasons at Delta State and plans to transfer to the University of Nebraska. With the Fighting Okra, Hauk became a mainstay on the defense in her short time with the team, starting in all 10 games during a shortened 2020 season while scoring three goals and was a part of the team that won the program's first postseason game.
In 2021, she made the All-Conference Second Team while starting in every game. She has scored five goals and earned one assist out of the back across her first two college seasons.
"I am excited to get the opportunity to grow as a player and person over summer, surrounded by a lot of talented girls," Hauk said.

The Charlotte Independence USL W League Team kicks off their inaugural season on Sunday, May 15 at 3:00 PM (ET). The women will host Greenville Triumph SC at American Legion Memorial Stadium. To view the full schedule and purchase your season tickets, please visit www.charlotteindependence.com/2022-womens-usl-w-league-schedule/.