Jacks add two goal scorers and a goalkeeper to the roster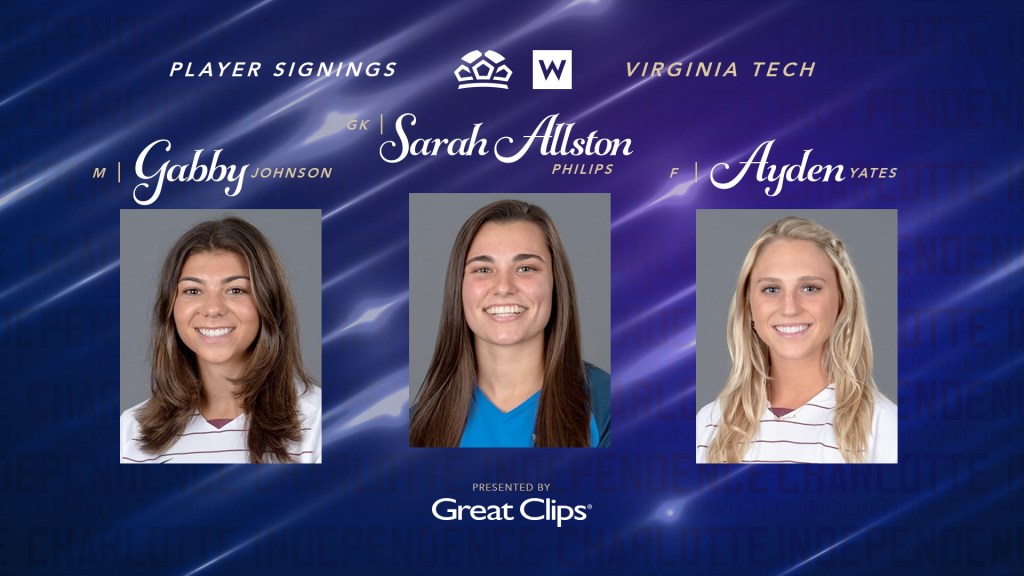 CHARLOTTE, N.C. (May 11, 2022) – The Charlotte Independence USL W League Team announced today the signing of three Virginia Tech players who are set to join the squad ahead of its inaugural season. The arsenal includes Midfielders Gabrielle Johnson and Ayden Yates as well as goalkeeper Sarah Allston Phillips.
"We are looking forward to having three young women with ACC experience join the team this summer," Greg Ashton, General Manager of the Charlotte Independence USL W League Team said. "Ayden is an attacking midfielder and forward that has the ability to get into dangerous positions to score and create opportunities for others. Gabi is an experienced central midfielder who looks to retain possession and will take on a playmaking role going forward. Sarah Allston will be part of our goalkeeping group. She has the experience to provide leadership and organization from the back and will be determined to have a positive impact on the team this summer."
Johnson set a school record for career goals scored at Veritas High School in Richmond, Virginia, with 49. She helped lead the Lions to two consecutive Conference Championships in 2014-2015 and was a two-time All-Conference selection in 2014 and 2015. At the club level, Johnson competed for the Seattle Sounders in the Women's Premier Soccer League and played for Fredericksburg Football and Elite Clubs National League Programs.
Before transferring to Virginia Tech as a graduate student, Johnson played at Delaware where she made an immediate impact for the Fightin' Blue Hens. In her freshman season, she appeared in 18 games and was tied for the team lead in goals with three. She served as Captain during her junior and senior seasons before joining the Hokies.
"I cannot wait to train and compete with, and against, great players this summer with the Charlotte Independence," Johnson said. "It is exciting to know I am entering a great environment to improve my game, meet new people, and participate in the newest women's league."
At Lake Norman Charter High School, Yates broke the single-season scoring record her freshman year with 45 goals and broke the single-season assist record her junior year with 26. She finished her time at Lake Norman Charter with 144 goals and 68 assists. In her three high school seasons, she was named All-Conference, All-Region and All-State all three years and was named the 2020 Gatorade North Carolina Girls Soccer Player of the Year.
Yates played for the Charlotte Soccer Academy DA and led her team in assists and was second in goals scored during her final season with CSA. She helped lead the team to a State Cup Championship, scoring in the title game.
"I am very excited to be signing with the Charlotte Independence USL W League team this summer," Yates said. "I look forward to being surrounded by amazing talent and playing with former teammates!"
Phillips played high school soccer at Waccamaw High School. She helped lead the Warriors to three straight Region Championships and was a three-year Captain. She set the school record for saves in a single game and most saves and shutouts in a single season. Phillips played club soccer at South Carolina United and won the South Carolina State Title, the National League Disney Showcase and the Jefferson Cup. She was forced to miss her freshman season at Virginia Tech due to injury, but appeared in goal twice during her junior year making two saves.
"I am super excited to live in the Charlotte area with my VT teammates and be a part of a very professional setting with high-stellar women athletes," Phillips said.
The Charlotte Independence USL W League Team kicks off their inaugural season on Sunday, May 15 at 3:00 PM (ET). The women will host Greenville Triumph SC at American Legion Memorial Stadium. To view the full schedule and purchase your season tickets, please visit www.charlotteindependence.com/2022-womens-usl-w-league-schedule/.