49ers stay local for the summer to join the Independence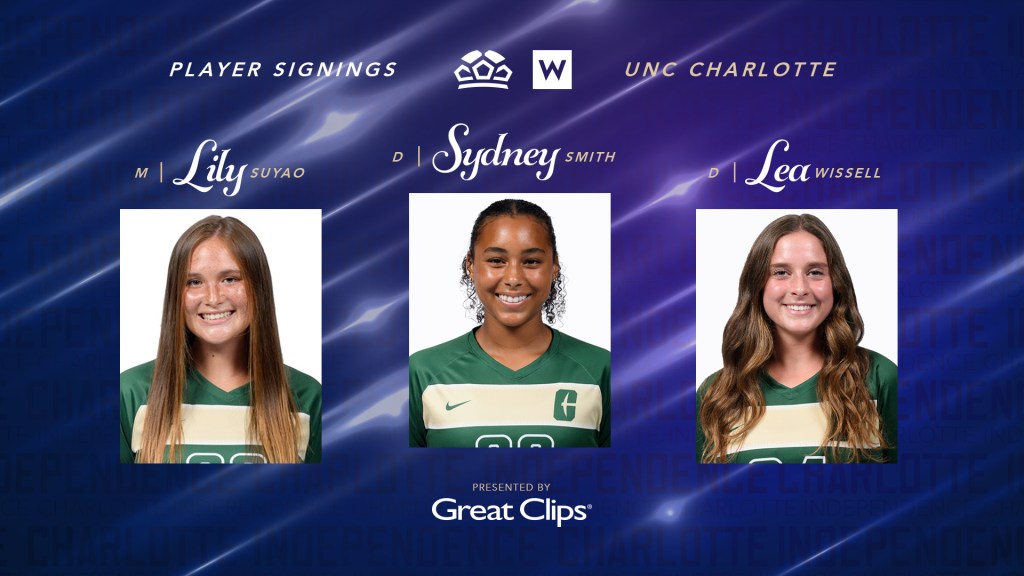 CHARLOTTE, N.C. (May 13, 2022) – The Charlotte Independence USL W League Team announced today the signings of midfielders Lea Wissell and Lily Suyao and defender Sydney Smith. Wissell, Suyao and Smith are sophomores at UNC Charlotte.
"We are excited to have three players from the local UNC Charlotte 49ers on the team this summer. All three players played for the Independence through their youth careers," Greg Ashton, General Manager of the Charlotte Independence USL W League team said. "Lea provides the team with a composed style of play with her passing and retaining possession. Lily will provide a solid defensive presence in the midfield and Sydney will look to demonstrate her athletic ability and continue her development as a dominant central defender."
Wissell played high school soccer locally at Hough High School in Cornelius, North Carolina, where she was named to the All-Conference team three consecutive seasons from her sophomore to senior year and won three straight conference titles. After her final high school season, Wissell made the All-Senior West team and was one of the finalists for the Charlotte Soccer Gala's Female Player of the Year Award.
Wissell has played for the Charlotte Independence her entire soccer career and helped win the 2017 USYS National Championship as well as the 2016 and 2017 USYS Regional titles. Her team advanced to the ECNL Playoffs in 2018 and 2019.
During her freshman season at UNC Charlotte, Wissell appeared in seven games, making two starts. In her second collegiate season, Wissell appeared in 12 games and earned her first college point by earning an assist for the 49ers against the College of Charleston. She finished the year with two assists.
"I am super excited to come back and play for the club that I grew up playing with, and I am also really looking forward to the opportunity to train and play with high quality players in a high quality environment!" Wissell said.
Smith played high school soccer at Cox Mill High School in Concord, North Carolina and earned All-Conference honors in 2017 and 2018. In 2018, she helped lead her team to the state finals. She was also named to the All-State team and recognized as Defensive Player of the Year. In her senior season, she was voted onto the 2020 High School All-Senior West team.
In her freshman season at UNC Charlotte, Smith appeared in eight games and started in four. She started in every match of the Conference USA tournament after earning her first college start in the home regular season finale. Smith appeared in 12 matches her sophomore season and started in three.
"I am excited to be a part of the new Charlotte Independence USL W League. I am fortunate to be playing with many talented players that I have trained with in the past," Smith said. "The atmosphere will be challenging and competitive and I am excited to see what this team has to offer."
Suyao played club soccer with the Charlotte Independence where she helped guide her team to the ECNL Playoffs in 2018. At Watauga High School in Boone, North Carolina, she earned All-Region honors in 2018 and 2019 while being voted the 2019 Conference Offensive Player of the Year. Her senior season, she was voted team captain and earned a spot into the Senior Clash All-Star game.
At UNC Charlotte, Suyao started in eight of the 11 games she played in the spring of 2021. She was a consistent presence in the 49ers midfield during the team's run to the C-USA championship, starting in every game of the conference tournament.
"I am very excited for another summer season with Charlotte Independence," Suyao said. "I am so thankful for the opportunity to play for the club I played for before going to college with former and current teammates. I am looking forward to competing at a high level and improving as a player and teammate."

The Charlotte Independence USL W League Team kicks off their inaugural season on Sunday, May 15 at 3:00 PM (ET). The women will host Greenville Triumph SC at American Legion Memorial Stadium. To view the full schedule and purchase your tickets, please visit www.charlotteindependence.com/2022-womens-usl-w-league-schedule/.