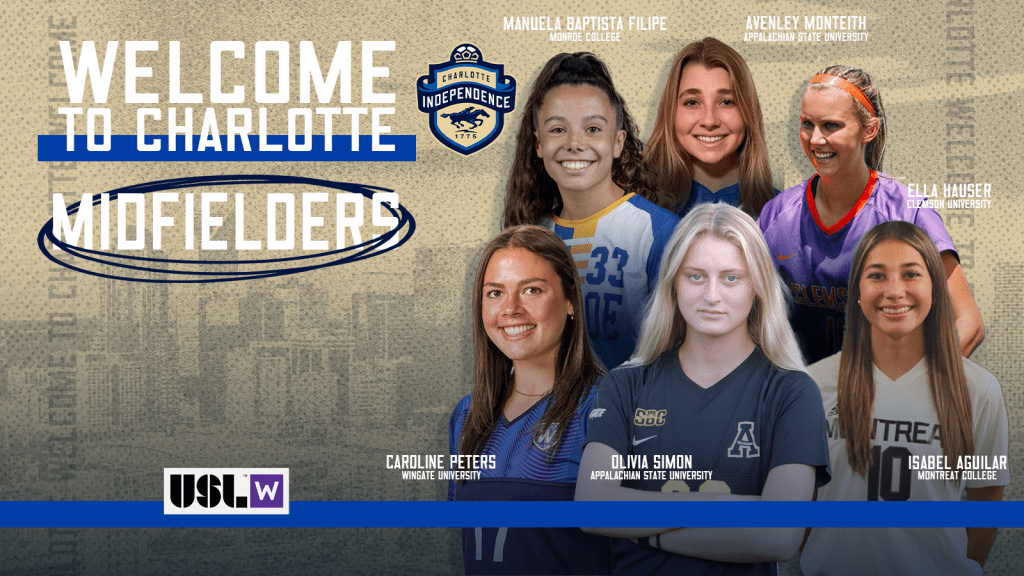 Technical skill, tactical strategy, power and speed joining the Independence
CHARLOTTE, N.C. (May 17, 2023) – The Charlotte Independence USL W League team today announced the signing of six new midfielders for the 2023 season, pending league and federation approval. Those signed include Olivia Simon (Appalachian State University), Ella Hauser (Clemson University), Avenley Monteith (Appalachian State University), Manuela Baptista (Monroe College) Isabel Aguilar (Montreat College) and Caroline Peters (Wingate University).
"These middies are going to do a great job for us. We are very excited about the new mix of players that we found either through our tryout, from our youth club, from prestigious local programs, or contacts that connected us," explained Charlotte Independence USL W League Head Coach, Robyn Horner. "There is a great mix of technical, tactical, power and speed, and they are a testament to our overall network of colleagues."
Olivia Simon, Appalachian State University – Simon just concluded her high school soccer career after playing four years on the women's varsity team at Cuthbertson High School. Simon spent six years as an ECNL player. She was recently nominated for the Clash of the Carolinas soccer all-star event.
As captain for the Cavaliers in Waxhaw, North Carolina, Simon was recognized as an All-State Team selection as well as Conference and Region Player of the Year. She also represented Cuthberston at the first ever Charlotte FC Captains Academy Program.
"I'm super excited to be signing with the team this year! I can't wait to be surrounded and challenged by high level players," Simon said. "I also can't wait to see what all the team accomplishes in their second season!"
Ella Hauser, Clemson University – Hause, a junior for the Tigers, concluded her 2022 college season with two starts in thirteen appearances. Before college, she played high school soccer at William Amos Hough High School where she averaged 1.5 goals per game for the women's varsity team.
Hauser played club soccer for the Charlotte Soccer Academy and ECNL programs for three years. She was a 2021 ECNL Semifinalist and a 2019 State Cup Champion.
"I can't wait to get the season started," Hauser said. "I'm so excited to compete alongside an amazing team and coaching staff!"
Avenley Monteith, Appalachian State University – Monteith is an incoming freshman at Appalachian State and will begin playing for the Mountaineers this upcoming season.
In her hometown of Cornelius, North Carolina, Monteith played for her high school, Liberty Prep Christian Academy. Monteith was a three-time All State selection and was also twice named to the All Conference team. In 2018, Monteith competed for Northern Ireland's U17 squad.
Manuela Baptista Filipe, Monroe College – Baptista, a Portugal native, is a Sophomore at Monroe College where she concluded the season with 2 goals and 1 assist. Before transferring to Monroe College, Baptista attended Ohio Valley University where she was named team Captain for both her freshman and sophomore seasons. As a freshman, she scored 3 goals with 1 assist. As a sophomore Baptista scored 8 goals and tallied 3 assists.
Isabel Aguilar, Montreat College – Aguilar started all 16 games in 2022 for the Cavaliers, leading the team with nine assists and scoring four goals, one of which was a game-winner.
In her college career, Aguilar has scored a total of six goals and has been recognized as a two-time First Team All-AAC in 2021 and 2022 as well as a two-time AAC All-Tournament Team in 2021 and 2022.
Previously, she has also played for Chattanooga FC and for her high school, Frostproof Middle Senior High School.
"I'm extremely excited for this opportunity. I think this will be an amazing experience and will help me develop as a player," Aguilar stated. "I'm also looking forward to meeting my fellow teammates and staff and hope to make new connections."
Caroline Peters, Wingate University – Peters, a grad student at Wingate University, has scored 12 goals and recorded 18 assists for the Bulldogs. She played in 49 games with 43 starts throughout her collegiate career.
Peters was awarded Preseason All-SAC Second Team Honors ahead of her senior season which resulted in 17 starts, three goals and a team-high 59 shots, 25 of which were on goal. Her junior campaign resulted in a Second Team All-SAC recognition.
The Charlotte Independence USL W League Team kicks off the 2023 season on Sunday, May 21 at 5:00 p.m. The women host the NC Courage U-23s at American Legion Memorial Stadium. View the full schedule at charlotteindependence.com.