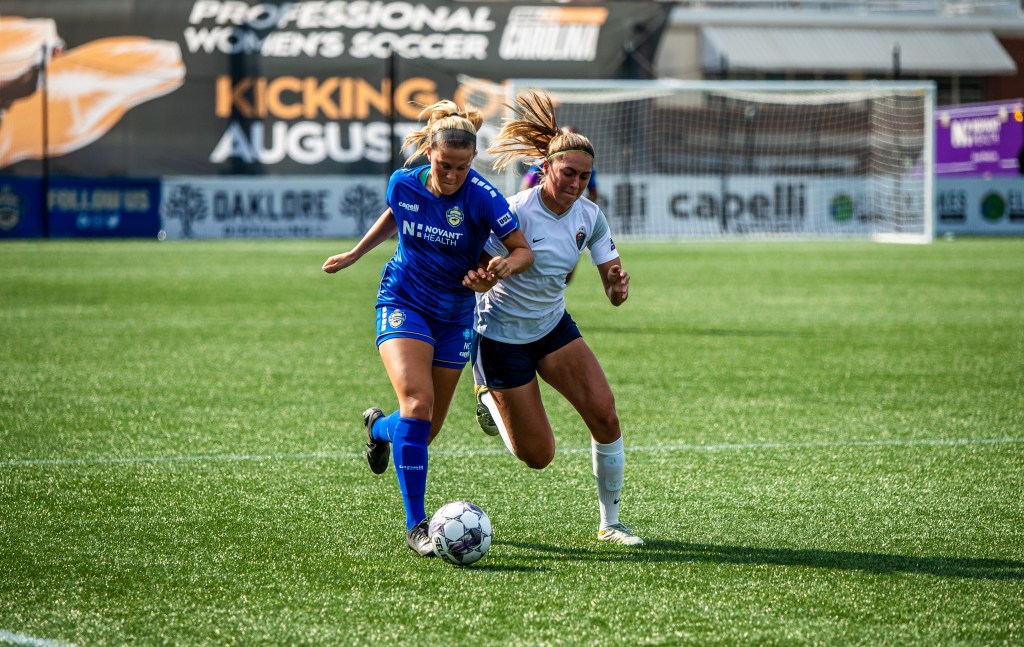 CHARLOTTE, N.C. (May 21, 2023) – The Charlotte Independence USL W League team dropped its match 0-3 against the NC Courage Sunday evening at American Legion Memorial Stadium. The Independence return to the pitch on Wednesday, May 24 to battle it out against Greenville Liberty. The match will be played at Manchester Meadows Field #2 in Rock Hill, SC.
The first half was a big defensive battle for the Independence women. NC Courage held most of the possession and looked dangerous on the attack forcing Independence goalie, #1 Madison Howard to come up with some big saves.
The Independence found a break in the attack in the 10th minute of play. It was a long ball over the top that found #5 Mary Leise Grier running in behind. She took a couple touches, dribbling towards the net. Her shot went low and left but missed just wide.
In the 19th minute, #22 Bader of NC Courage took a powerful shot from outside the 18 yard box, but Howard was able to collect it easily.
Following many strikes at the goal, #27 Isabella Brown of NC Courage eventually found the back of the net. It was a through ball between the Independence defenders that found Brown inside the box. She turned her defender and took a strike towards the lower right side of the net. Her goal put NC Courage ahead by one in the 26th minute.
After the goal, Independence stepped up and held their ground for the remainder of the half.
Halftime: Charlotte Independence 0 – NC Courage 1
Early into the second half, the Charlotte Independence pressed forward and found attempts to tie the game. In the 49th minute, #17 Olivia Simon of Charlotte made a pass to the center of the 18 yard box. They got the shot off but it was collected by the NC Courage goalkeeper.
In the 62nd minute, #8 Goldthuaik of the Courage took a laser shot from the top of the box, landing their second goal of the evening in the bottom-right side of the net.
Towards the end of the match, NC Courage continued to find chances in the final third. In the 83rd minute, #20 Oliaro dribbled inside the 18 yard box before finding her teammate #6 Strickland, who took a powerful strike but missed high over the crossbar.
Three minutes later, in the 86th minute, Oliaro again for the Courage dribbled the ball up the right side of the field before making a pass to her teammate #5 Geigle inside the box. She flicked a pass to Strickland for a header and into the back of the net to secure the three goal win for the Courage.
Final Score: Charlotte Independence 0 – NC Courage 3
NEXT ON THE SCHEDULE: The Charlotte Independence USL W League team will host Greenville Liberty this Wednesday, May 24 at 6:00 pm at Manchester Meadows Park in Rock Hill, South Carolina.