The pre-professional women's team enters its second USL W League season.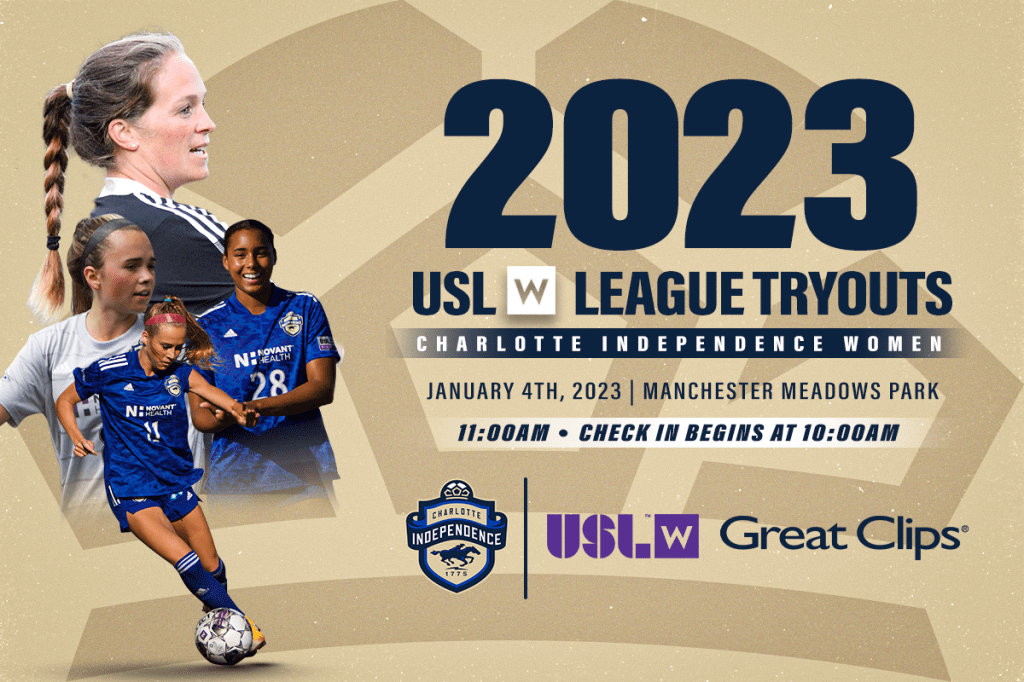 CHARLOTTE, N.C. (November 15, 2022) – The Charlotte Independence Women's USL W League Team announced it will host open tryouts on Wednesday, January 4, 2023 at Manchester Meadows Park in Rock Hill, S.C. The pre-professional women's team enters its second USL W League season after finishing 4-5-3 in their inaugural campaign. Registration for all participants is free of charge. Click here to sign up. 
PLEASE NOTE: If you have a PlayMetrics account login and register. If you do not have an account please create an account and then register for W League Tryout.
Tryout Details:
Date: Wednesday, January 4, 2023
Location: Manchester Meadows
Schedule:
10:00 AM – Check In
Check In will be located at the Pavilion next to turf field 1 and 2.
11:00 AM – Training Session
12:15 PM – Lunch
12:30 PM – Classroom Session
2:00 PM – 11 v 11 Scrimmage
In 2022, the Charlotte Independence Women played 12 games, scored 18 goals and kept 3 clean sheets.
The Charlotte Independence Women are led by returning Head Coach, Robyn Horner. Horner played professional soccer for two years in the WPS with the Philadelphia Independence. She also has six years of experience competing in the previous USL W League with the New Jersey Wildcats and the Charlotte Lady Eagles. Horner played semi-professional soccer in 2021 for the Charlotte Independence North-WPSL team and was named All-Conference Goalkeeper. She continues her role as Director of Goalkeeping for the Charlotte Independence Soccer Club following a four year stint as the Head Coach for Pfeiffer University, which included two Conference Semifinal appearances.
"We are extremely excited to begin the process of selecting players for the upcoming USL W League season," stated Charlotte Independence Women's Head Coach, Robyn Horner. "I have been watching as many games as I can to ID players we'd like to invite out to our tryouts. Last season we were extremely competitive in every game we played, and our inaugural roster of young women were very successful in laying the strong foundation we set out to create. We can't wait to get started on this next chapter, and we will welcome anyone and everyone out that wants to be a part of this special group!"
The USL W League is a pre-professional women's soccer league which serves as the nation's premier pre-professional league developing the next generation of women's soccer talent both on and off the field. The USL W League strives to use women's soccer as a force for societal good by creating a national platform to increase opportunity, gender equity, and career development. Learn more about the USL W League.